Khamenei calls for new International world order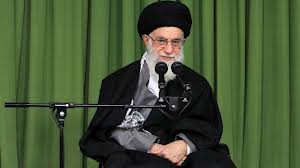 Iran's Supreme leader Ayatollah Ali Khamenei declared Thursday in a speech welcoming Egypt's President Mohammed Morsi to in Tehran, "Iran's motto is nuclear energy for all, nuclear weapons for none."
Morsi's visit was the first by an Egyptian leader to Iran since 1979.
Iran's state TV in a live broadcast showed Morsi being received with full red-carpet honors by Tehran's vice president in charge of executive affairs Hamid Baghaei in the capital's Mehrabad airport on Thursday.
The world, Khamenei said "Is in transition towards a new international order and the Non-Aligned Movement (NAM) can and should play a new role."
He further underlined the need for solidarity among all NAM member states, shying it was an "obvious necessity" in the current era for establishing this new order.
khamenei stressed that Iran "will never pursue nuclear weapons but… will not give up right to nuclear energy," which he called the "given right of every country."