France opens murder inquiry into Arafat's death, report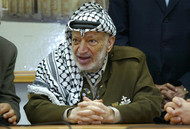 A French court has opened a murder inquiry into the 2004 death of Palestinian leader Yasser Arafat, prosecutors said on Tuesday, following claims by his wife that he may have been poisoned.
Arafat died in a Paris military hospital in November 2004, a month after being airlifted – when his health collapsed – from his battered headquarters in Ramallah, where he had been effectively confined by Israel for more than two and a half years.
Allegations of foul play have long surrounded Arafat's demise after French doctors who treated him in his final days said they could not establish the cause of death.
Last month, Arafat's wife, Suha, asked a court in the western Paris suburb of Nanterre to launch a murder investigation following revelations that a Swiss institute had discovered high levels of the radioactive element polonium-210 on Arafat's clothing.
That substance was found to have killed former Russian spy Alexander Litvinenko in London in 2006.
An investigating magistrate, yet to be named, will lead the French probe into possible premeditated murder, a legal source said.
A lawyer for Suha Arafat told Europe 1 radio that the French court was correct in recognising its jurisdiction to investigate the case, since Arafat died in France.
"The tests done in Switzerland showed that Mr. Arafat, in all likelihood, died through poisoning," lawyer Marc Bonnant said. "This hypothesis must be proved, and if that's the case, then it's premeditated murder."
Suha Arafat has said her suspicions were raised when the hospital where her husband was treated acknowledged that they had destroyed his blood and urine samples.
The Palestinian Authority plans to exhume Arafat's body from a limestone mausoleum in Ramallah for an autopsy and Tunisia has called for a ministerial meeting of the Arab League to discuss his death.
Yigal Palmor, spokesman for Israel's Foreign Ministry said: "This does not pertain to us. The complaint lodged by Suha Arafat with the French police does not address Israel or anyone in particular. If the French justice system has decided to open an investigation, we hope that it will shed light on this matter."
Reuters