Aleppo Christian archbishop fled to Lebanon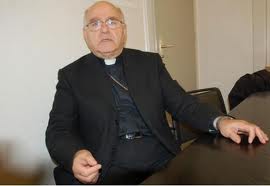 A Christian archbishop fled Syria after his offices were ransacked last week amid fighting between rebels and government forces in the country's biggest city Aleppo, Catholic news agency Fides said on Monday.
The Melchite Greek Catholic archbishop of Aleppo, Jean-Clement Jeanbart, and a number of priests fled to Lebanon after the attack on Thursday, Fides said.
The Melchite Greek Catholic Church is a community of Middle Eastern Christians who are in full communion with Rome.
Fides said "unidentified groups who want to feed a religious war and drag the Syrian population into sectarian conflicts" attacked the Christian area in the old quarter of Aleppo.
A Byzantine Christian museum and an office of the Maronite Christian faith were also damaged, the report said.
There are several Christian groups in Syria, many of which have been in the region since pre-Islamic times.
Christians make up around 10 percent of the population and many have remained loyal to President Bashar al-Assad – a member of the minority Alawite faith, an off-shoot of Shi'ite Islam – fearing that the majority Sunni Muslims would trample on religious rights if they took power.
However some senior members of the opposition are also Christians.