Sharp rise in refugee flows from Syria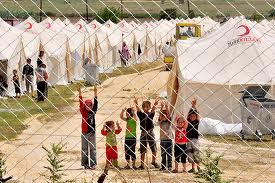 A surge in the number of Syrians seeking sanctuary from their country's soaring violence prompted the Turkish government to halt the flow of refugees at two key border crossings Sunday amid an escalating humanitarian crisis that is swamping Syria's neighbors and intensifying pressure for international intervention.
The closure left more than 7,000 refugees stranded in olive groves just inside Syria at the two places where most of the Syrians cross, while Turkish officials look for a way to accommodate them at camps that can't keep pace with the influx.
But with more than 80,000 refugees in Turkey, nearly double the number a month ago, officials warned that the country is rapidly approaching the point at which it will no longer be able to cope. That could trigger a request for support at the United Nations for the creation of some form of internationally protected haven that would enable refugees to remain in Syria.
Turkey has not decided how to address the accelerating refugee flow but is considering asking the United Nations to find a way "to keep those Syrian nationals safe on the Syrian side of the border," said a government official who spoke on the condition of anonymity because of the sensitivity of the subject. "It is becoming a big burden. This could become a big issue, and we have to think about any kind of eventuality."
The Obama administration remains reluctant to become embroiled in what could prove to be a costly and unstoppable war that would risk engulfing the region, U.S. officials say.
President Obama last week identified the use of chemical weapons by the regime against its opponents as a "red line" that would trigger American intervention. U.S. officials say they are monitoring the evolving situation and are discussing various options, including the imposition of a no-fly zone in northern Syria that would alleviate the burden on Turkey of accommodating the refugees.
But although Turkish officials have been pressuring the United States to move toward some form of intervention because "they don't want more refugees," the United States is not convinced that the creation of any form of buffer zone would work to protect refugees or accelerate the demise of the regime, according to a senior U.S. administration official who spoke on the condition of anonymity because of the sensitivity of the subject.
Discussions by U.S. contingency planners have focused on a variety of options. They range from what is being called "no-fly lite," which would provide a haven for refugees but not require outright attacks on military facilities, to a full-scale no-fly zone similar to the one imposed over Libya last year, according to U.S. officials.
The number of refugees being accommodated by Syria's neighbors has already outstripped the United Nations' projection of 185,000 by the end of the year, with more than 200,000 registered in Turkey, Iraq, Jordan and Lebanon as of Friday. The number in Turkey has climbed by 10,000 since Turkey's foreign minister, Ahmet Davutoglu, warned a week ago that Turkey would press for international action if the figure passed 100,000. The latest arrivals suggest that threshold could be reached within weeks, if not days.
The rising refugee numbers coincide with a sharp spike in the already high levels of bloodshed in Syria, with the 17-month-old uprising against the regime led by President Bashar al-Assad claiming an increased number of casualties in recent days. The Britain-based Syrian Observatory for Human Rights said 370 people were killed Saturday, among them as many as 200 people whose bodies were discovered in the Damascus suburb of Darayya in what appeared to be one of the worst single incidents of mass killing since the crisis began.
According to videos posted online by activist groups, most of the victims were men. Some may have been killed by shelling, but others appeared to have been shot in the head. More than 100 bodies were found together in a mosque where people had taken sanctuary, according to activist groups. The videos showed rows of bloodied corpses wrapped in blankets.
On Sunday, the observatory group said 32 more bodies had been discovered amid the ruins of Darayya, bringing to 320 the number killed in a five-day local offensive aimed at asserting government authority over a belt of territory ringing Damascus that had fallen under rebel control.
The official Syrian Arab News Agency did not give a number of those killed in the offensive but said the push had been successful.
"The armed forces cleared the town of Darayya in Damascus Countryside from terrorists, pursuing them . . . and eliminating a large number of them," it said.
Darayya, once hailed as the epicenter of the peaceful protest movement, was one of the first towns outside Damascus to join the uprising and one of the last to take up arms, although in recent months it had become a stronghold of the Free Syrian Army. The departed U.S. ambassador to Syria, Robert Ford, made a symbolic visit there last September to attend the funeral of Ghiyath Matar, a peace activist who had been tortured to death after his capture by Syrian security forces — a gesture of support for nonviolence at a time when the revolt was rapidly turning into an armed rebellion.
If the killings are confirmed, said Britain's Foreign Office minister for the Middle East, Alistair Burt, they would represent "an atrocity on a new scale," highlighting "the urgent need for international action to bring an end to the violence."
Most of the refugees in Turkey are fleeing the daily shelling and aerial bombardments in northern Syria, where rebel advances last month into Aleppo, the commercial capital, raised opposition hopes that a swath of territory from which government forces have been ejected could be transformed into a haven.
The mostly rural areas along the Turkish border where government forces are no longer present are nonetheless routinely subjected to artillery bombardments, airstrikes and attacks by combat helicopters, contributing to the continued flow of refugees.
Nervous neighbors
Jordan, which is hosting 61,000 refugees and as many as 100,000 Syrian residents, is also complaining that it is unable to cope with an accelerated influx of more than 2,000 refugees a day. "The number of refugees is growing, and our limited resources are thinning," Jordan's information minister, Samih al-Maaytah, said Sunday, the Associated Press reported. "The international community should come to the aid of the Syrian refugees."
In Lebanon, a spate of kidnappings of Syrians by a Shiite Lebanese clan has raised concerns for the safety of the 51,000 refugees registered there and highlighted the potential for Syria's conflict to ignite sectarian tensions.
Iraq, which is hosting nearly 16,000 refugees, closed its main border crossing with Syria over the weekend after rebels were reported to be overrunning government buildings in the border town of Abu Kamal.
Also Sunday, Syria's vice president, Farouk al-Shara, made a rare public appearance that quelled weeks of rumors that he had defected. Shara, a Sunni, has been identified in a variety of peace proposals as the possible leader of a transitional government. But on Sunday, he was seen by reporters attending a meeting with a visiting Iranian official.
Washington Post