Prominent Muslim cleric killed in Tripoli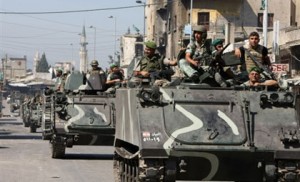 A prominent Muslim cleric was killed early morning Friday in North Lebanon's violence-stricken city of Tripoli after the security situation deteriorated again in the neighborhoods of Bab al-Tebbaneh and Jabal Mohsen,National News Agency reported.
NNA identified the cleric as sheikh Khaled Baradei,28 saying he was killed by sniper fire in Bab al-Tebbaneh neighborhood despite an agreement reached on Thursday to give the army the green light to restore order in Tripoli.
Fighting first broke out on Monday night between gunmen of the predominantly Alawite neighborhood of Jabal Mohsen who support the regime of Syrian president Bashar al Assad who himself is a Alawite and the predominantly Muslim Sunni neighborhood of Bab al-Tebbaneh who support the uprising against the Syrian regime. The rival neighborhoods are divided by a thoroughfare called Syria Street.