Syria's Assad makes Eid appearance without VP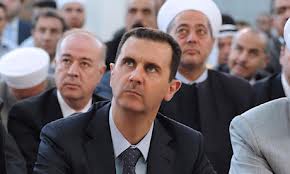 Syrian President Bashar al-Assad performed Eid prayers in a Damascus mosque on Sunday, state television showed, his first appearance in public since a stunning July bombing in the capital that killed four of his top security officials.
Assad, battling a 17-month-old uprising against 42 years of rule by his family, was accompanied by his prime minister and foreign minister but not his vice president, Farouq al-Shara, whose reported defection was denied the previous day.
His administration shaken by the July 18 attack and defections including that of his last prime minister, Assad's recent appearances had been restricted to state television footage of him during official business. Most recently, he was shown swearing in the new prime minister a week ago.
Syria's civil war has intensified since the audacious attack that killed members of Assad's long inaccessible inner circle including his defense minister and brother-in-law.
With diplomatic efforts to end the war hampered by divisions between world powers and inter-Arab rivalries, Syria faces an unabating conflict that threatens to destabilize the Middle East with its sectarian reverberations, pitting a mainly Sunni Muslim opposition against the Alawite minority to which Assad belongs.
In the footage broadcast on Sunday, Assad sat cross-legged during a sermon in which Syria was described as the victim of terrorism and a conspiracy hatched by the United States, Israel, the West and Arab states but which would not "defeat our Islam, our ideology and our determination in Syria".
Eid prayers mark the end of the Islamic holy month of Ramadan.
Assad, dressed in a suit and tie, smiled as he greeted officials including senior members of his Baath Party.
In attendance were Foreign Minister Walid al-Moualem and Prime Minister Wael al-Halki. He is the replacement for Riyad Hijab, a Sunni who has joined the opposition to Assad since his defection was announced on August 6.
Hijab was the highest-level Syrian official to desert the government so far. Reports on Saturday that Shara, also a Sunni, had tried to bolt to Jordan drew a denial from the government.
Shara had "never thought for a moment about leaving the country", according to a statement from his office broadcast on state television. Shara, whose cousin – an intelligence officer – announced his own defection on Thursday, comes from Deraa province where the revolt began against Assad.
The 73-year-old ex-foreign minister kept a low profile as the revolt mushroomed but surfaced in public last month at a state funeral for three of the slain officials: the fourth died later of his wounds.
The statement said he had worked since the start of the uprising to find a peaceful, political solution and welcomed the appointment of Algerian diplomat Lakhdar Brahimi as a new internatio