Gemayel: Security pact with Syria a 'threat' against Lebanon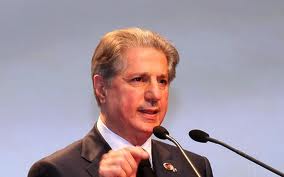 Former Lebanese president and current Phalange Party leader Amin Gemayel commented Monday during a press conference held at his Bekfaya residence on the recent arrest of former Information Minister Michel Samaha and said that the security agreement with Syria has become a "threat" against Lebanon.
"The cabinet must immediately stop working in accordance with the so-called Fraternity, Cooperation and Coordination Treaty between Lebanon and Syria," Gemayel said
Gemayel also said that Samaha's arrest was the first time the security forces "publicly reveal collaborators with Syria."
Gemayel also said that the organization to which Samaha belongs was not the only organization preparing for attacks in the country.
"We have information that indicates that there are many networks all over the Lebanese territory and they have infiltrated many parties," Gemayel said
Gemayel also warned against intervening in the Samaha investigation "in a bid to cripple the trials."
"We will stand in the face of any attempt to conceal the truth," Gemayel added.
Last week Gemayel's son MP Sami Gemayel told An-Nahar that if allegations against Samaha are true then the former minister must be tried for "high treason."
"If it is proven that allegations [against Samaha] are true and that the Syrian regime is involved in the bombings plan for Lebanon … then all those who issue statements in support of the Syrian regime must be punished. In this case, Lebanon must also cancel the Fraternity, Cooperation and Coordination Treaty between Lebanon and Syria," Sami Gemayel added.
Samaha's lawyers said on Monday that the investigation of their client was going "well" adding that if things continue as such they expect Samaha to be released, National News Agency reported.
On Thursday, Lebanese security forces arrested Samaha in a case linked to a bombing plan aimed to create a strife in Lebanon
On Saturday, Judge Sami Sader charged Samaha and two Syrian army officers with setting up an armed group to incite sectarian strife through "terror attacks."
Following his arrest, several reports revealed that Samaha confessed under interrogation that he had transferred "explosives from Syria to Lebanon in order to carry out bombings in North Lebanon, particularly in the area of Akkar, with Syria's knowledge."
"This is what Bashar wants," Lebanese security sources quoted Samaha as saying of Syrian President Bashar Assad, in a video shot by a Lebanese undercover agent for the Internal Security Forces Information Branch.
He was referring to the bombing plan that was meant to be carried out in north Lebanon.
The security sources also said that, in the video, Samaha can be seen and heard as saying that Syrian Maj. Gen. Ali Mamlouk had handed him the bombs in addition to $170,000 cash that was meant to be distributed to would-be executors of the bombing plan in Lebanon.
Samaha is known for being a staunch ally of the Syrian regime and Hezbollah even years before he was appointed a minister in the cabinet. He was among several pro-Syrian Lebanese officials who were sanctioned in 2007 by the United States for "contributing to political and economic instability in Lebanon."
While March 14 opposition welcomed Samaha's arrest, the Iranian and Syrian backed Hezbollah and its ally FPM which is headed by MP Michel Aoun were angered by his arrest.
Now Lebanon, agencies