Assad whereabouts remain a mystery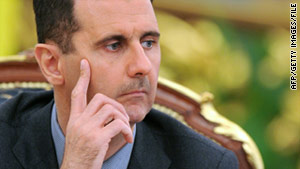 President Bashar al-Assad told his troops on Wednesday that their battle against rebels would determine Syria's fate but his written message gave no clues to his whereabouts two weeks after a bomb attack hit his inner circle.
Assad has not spoken in public since the bombing in Damascus on July 18 killed four of his close security aides although he has been seen on television.
His latest remarks – made as the two sides battled for control of Syria's commercial capital Aleppo – appeared in a statement in the military's magazine to mark armed forces day.
But it was not clear exactly when or where he was speaking, indicating heightened concern over his personal security in the wake of the bombing at the defense headquarters in the capital.
"The fate of our people and our nation, past, present and future, depends on this battle," he said.
In confronting "terrorist criminal gangs" – the government's usual term for the rebels, the army had proved it had "the steely resolve and conscience and that you are the trustees of the people's values", he said.
In the northern city of Aleppo, rebel fighters seized three police stations while fighting the army for control of a strategically important district.
Explosions could be heard on Wednesday morning and helicopter gunships cruised the skies as government forces tried to push the rebels out of the historic city and preserve one of Assad's main centers of power.
Earlier, at least 10 volleys of shells lit up the darkened sky and drowned out the Islamic call to prayer. Carloads of rebel fighters shouting "God is great" sped off towards the fighting.
The battle for Aleppo has become a crucial test for both sides. Neither Assad's forces nor the rebels can afford to lose if they hope to prevail in the wider struggle for Syria.
Since last month's bomb attack, the fighting has become more intense, reaching into Damascus and Aleppo for the first time in the 17-month-old uprising against the Assad dynasty.
Video footage posted on the Internet appeared to show that rebel fighters were carrying out summary executions in Aleppo in much the same way as government forces have been accused of acting in Damascus.
One video showed four men identified as members of the pro-Assad Shabbiha militia being led down a flight of stair, lined up against a wall and shot in a hail of rifle fire as onlookers shouted "God is Greatest".
In another video, a cameraman filmed the bodies of about 15 men lying dead at a police station. One rebel fired at the corpse of the station commander, blowing his head off. In both cases, the content of the footage could not immediately be verified.
STREET FIGHTING MEN
The Salaheddine district in the southwest of Aleppo has been the scene of some of the worst clashes, with shells raining down for hours at a time.
While the Syrian army said at the weekend it had taken control of Salaheddine, scrappy street fighting was still underway with neither government forces nor rebels in full control. Salaheddine resembles a ghost town, its shops shuttered, with little sign of normal life.
Rebel fighters, some in balaclavas and others with scarves around their faces, fired machineguns and assault rifles around street corners at invisible enemies. Wounded civilians and fighters were carried to makeshift dressing stations.
Syrian state television said on Tuesday troops in Salaheddine were still pursuing remaining "terrorists".
A rebel commander said his fighters' aim was to push towards the city centre, district by district, a goal he believed they could achieve "within days, not weeks".
The rebels say they now control an arc that covers eastern and southwestern districts.
"The regime has tried for three days to regain Salaheddine, but its attempts have failed and it has suffered heavy losses in human life, weapons and tanks, and it has been forced to withdraw," said Colonel Abdel-Jabbar al-Oqaidi, head of the Joint Military Council, one of several rebel groups in Aleppo.
Oqaidi, who defected from the army six months ago, told Reuters that more than 3,000 rebel fighters were in Aleppo.
According to an NBC News report, the rebels have acquired nearly two dozen surface-to-air missiles, which were delivered to them via neighboring Turkey. The missiles could tilt the battlefield balance if the rebels were able to shoot down government helicopter and war planes.
FOOD, FUEL SHORT
The fighting has proved costly for the 2.5 million residents of Aleppo, a commercial hub with an ancient Old City that was slow to join the anti-Assad revolt that has rocked Damascus and other cities.
Thousands have fled and those who remain face shortages of food and fuel as well as the risk of injury or death.
"We have hardly any power or water, our wives and kids have left us here to watch the house and have gone somewhere safer," said Jumaa, a 45-year-old construction worker.
Makeshift clinics in rebel-held areas struggle to deal with dozens of casualties after more than a week of fighting.
Up to 18,000 people have been forced to leave their homes in Aleppo and many frightened residents were seeking shelter in schools, mosques and public buildings, according to the U.N. refugee agency in Geneva.
Rebel fighters, patrolling parts of Aleppo in pick-up trucks flying green-white-and-black "independence" flags, face a daunting task in taking on the well-equipped Syrian army.
Armed with Kalashnikov rifles, machineguns and rocket-propelled grenades, they are up against a military that can deploy fighter jets, helicopter gunships, tanks, armored fighting vehicles, artillery and mortars.
Western and anti-Assad Arab states have for months been urging the Syrian opposition to unite.
On Tuesday, it appeared further fractured when a group of exiled Syrian activists announced a new opposition alliance to form a transitional government – a challenge to the Syrian National Council, a long established group they said had failed.
The head of the rebel Free Syrian Army criticized the new political coalition, calling its leaders opportunists seeking to divide the opposition and benefit from the rebels' gains.
Assad, a member of the Alawite minority sect, an offshoot of Shi'ite Islam, is now opposed by the leaders of other Arab states, nearly all of which are led by Sunni Muslims, as well as by Turkey and the West.
Within the region he retains the support of Shi'ite-led Iran, and in the U.N. Security Council he has been protected by China and Russia.
The U.N. General Assembly said on Tuesday it would hold a meeting on the crisis in Syria this week and diplomats say it will likely vote on a Saudi-drafted resolution that condemns the Security Council for failing to take action against Damascus.
Reuters