Military helicopters pound Aleppo as onslaught looms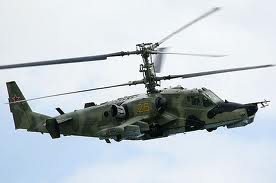 Beirut, Lebanon (Reuters) – Syrian military helicopters pounded a central district of Aleppo on Saturday as forces loyal to President Bashar al-Assad prepared for an onslaught on rebel fighters that could determine the fate of the country's biggest city, opposition sources said.
Turkey, once a friend but now a fierce critic of the Syrian government, joined growing diplomatic pressure on Assad, calling for international steps to deal with the military build-up.
The Syrian Observatory for Human Rights, an opposition group which collects information on the uprising against Assad that has gripped Syria for the past 16 months, reported helicopter attacks on the central Salaheddine district of Aleppo and violent clashes elsewhere in the city.
"Helicopters are participating in clashes at the entrance of Salaheddine district and bombarding it," the group said in an emailed statement. "There are also violent clashes at the entrances to Sakhour district."
The battle for the city of 2.5 million people is seen as a crucial test for a government that has committed major military resources to retaining control of its two main power centres, Aleppo and Damascus, in the face of a growing insurgency.
While neither side has managed to gain the upper hand, the outcome of the uprising is being watched anxiously in the surrounding region and beyond, amid fears that sectarian unrest could spread to volatile neighbouring countries.
Three rebel fighters were killed in clashes between midnight and dawn on Saturday in Aleppo, the Observatory said. It said 160 people were reported killed in Syria on Friday, adding to an overall death toll of around 18,000 since the uprising began.
Video footage provided by the Observatory showed smoke rising over apartment blocks in the city into a hazy sky on Saturday. The sound of sporadic gunfire could be clearly heard.
TURKEY CALLS FOR ACTION
Turkish Prime Minister Tayyip Erdogan said late on Friday that international institutions needed to work together to address the military assault on Aleppo and Assad's threat to use chemical weapons against external enemies.
"There is a build-up in Aleppo, and the recent statements with respect to the use of weapons of mass destruction are actions that we cannot remain an observer or spectator to," he said at a joint news conference in London with British Prime Minister David Cameron.
"Steps need to be taken jointly within the United Nations Security Council, the Organisation of Islamic Countries, the Arab League, and we must work together to try to overcome the situation," he said.
Earlier, Erdogan had cheered on the rebels.
"In Aleppo itself the regime is preparing for an attack with its tanks and helicopters … My hope is that they'll get the necessary answer from the real sons of Syria," Erdogan said in remarks broadcast on Turkish TV channels.
Cameron said Britain and Turkey were concerned that Assad's government was about to carry out some "some truly appalling acts around and in the city of Aleppo".
U.N. rights chief Navi Pillay urged both Syrian government forces and rebels on Friday to spare civilians in Aleppo, voicing deep concern at the "likelihood of an imminent major confrontation" in the city reminiscent of other deadly assaults.
CHEMICAL WEAPONS
United Nations Secretary-General Ban Ki-moon said he was deeply concerned about reports that Syria could use chemical weapons and demanded that the government should state it would not use them "under any circumstances".
But the White House said such a promise from the Syrian president was "certainly not enough" given Assad had paid only lip service to a U.N.-backed peace plan.
"Assad's word is not worth very much," White House spokesman Jay Carney said. "Any use of those weapons, any failure to safeguard those stockpiles would be a very serious transgression that would result in those responsible being held accountable."
In stating this week that it would not use chemical weapons against its own people, but might do so against external threats, Syria caused major international concern about its stockpiles of non-conventional weapons.
The increase in fighting in Aleppo follows a bomb attack on July 18 that killed Assad's defence minister and three other top officials in Damascus, a development that led some analysts to speculate that the government's grip was slipping.
Since then, Assad's forces have mounted a strong counter-attack against rebels in Damasacus as well as concentrating forces for an expected assault on Aleppo.
Reuters