Lebanon tells Syria to keep at a distance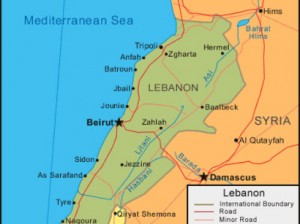 Lebanon has asked Syria to avoid incursions or bombardments into Lebanese territory, the foreign minister said on Wednesday.
Several Lebanese civilians have been killed, including women and children, during Syrian border incursions and mortar bomb attacks on Lebanese soil which Syria says target rebel fighters seeking a safe haven.
"We sent a letter through diplomatic channels including a reference to what happened on the border with the hopes of avoiding a recurrence," Foreign Minister Adnan Mansour said as he entered a ministerial meeting.
Mansour is a staunch supporter of President Bashar al-Assad, who has been widely condemned for his forces' crackdown on an uprising against him.
On Monday, Lebanese President Michael Suleiman asked Mansour to deliver a letter of protest to Syria, a day after 30 Syrian soldiers raided homes in northern Lebanon. But the next day Mansour told news channel al-Manar that he wanted the incident investigated before he sent a letter.
"We deal with Syria as a sister state and this relationship will not be broken now or in the future," he said.
Assad still exercises influence in Lebanon despite the departure of thousands of Syrian troops and intelligence operatives from Lebanese soil in 2005.
Mansour come from the Shi'ite Muslim Amal party which, along with the militant Hezbollah group, supports Assad.
Reuters