U.S.: Assad losing control in Syria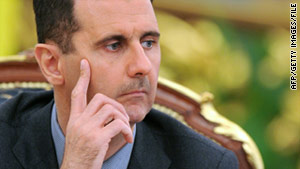 The United States said on Wednesday that Syrian President Bashar al-Assad was losing control of his country, and with an eye on Russia, urged the international community to get behind a political transition plan to avert a sectarian civil war.
U.S. President Barack Obama called Russian President Vladimir Putin – Assad's main international ally – after a Damascus bomb blast killed Syria's defense minister and Assad's brother-in-law, throwing the 16-month old rebellion onto an unpredictable new path.
"The window is closing. We need to take action in a unified way to help bring about the transition that the Syrian people so deserve," White House spokesman Jay Carney told reporters.
Carney did not provide further details of Obama's conversation with Putin, whose government has repeatedly blocked Western- and Arab-led efforts to rally the U.N. Security Council behind tough measures against Damascus.
But the Kremlin said while both leaders shared the goal of halting Syria's escalating violence, they remained divided on how to achieve this.
"Differences in approaches regarding the practical means of reaching a regulation (of violence) still exist," Putin's office said in a statement issued in Moscow after the call.
The U.N. Security Council delayed until Thursday a proposed vote on a Western-backed resolution that threatens Damascus with sanctions as envoys showed scant sign of narrowing the differences that have paralyzed the international response to the crisis.
LOSING CONTROL
The White House, reiterating the U.S. view that Assad's days are numbered, said the international community must now come together around a political transition plan to establish a democratic order in Syria after Assad goes.
"The sooner this transition happens, the greater the chance we have of averting a lengthy and bloody sectarian civil war and the better we'll be able to help Syrians manage a stable transition to democracy," said Tommy Vietor, another White House spokesman.
Defense Secretary Leon Panetta, speaking earlier, said Syria was lurching into dangerous territory and emphasized that Assad's government would be held responsible if it failed to safeguard its chemical weapons sites – a major concern for U.S. and regional security planners.
"This is a situation that is rapidly spinning out of control," Panetta told a Pentagon news conference.
One European national security official, reflecting the intelligence estimate of Washington and its allies, said that while the deadly bomb blast that wiped out key Syrian security officials was a huge setback for Assad, it was not necessarily a death blow.
U.S. officials said they were still assessing reports of the Damascus attack – but did not condemn it outright.
"The United States does not welcome further bloodshed in Syria. We note, however, that these men were key architects of the Assad regime's assault on the Syrian people," State Department spokesman Patrick Ventrell said.
"The Assad regime's desperate attempts to cling to power will only lead to further chaos and suffering, underscoring the urgency of the political transition."
U.S. officials said they did not have any information on Assad's whereabouts.
PRESSURE
U.S. officials emphasized that the chaos in Syria underlined the need for U.N. action, and said they were pressing the Security Council to support international mediator Kofi Annan's call for a resolution which spells out consequences for Assad's failure to implement a widely ignored peace plan.
But the permanent five veto-wielding council members – the United States, Russia, Britain, China and France – remain deeply divided and U.S. officials indicated there was little progress thus far.
"We had a useful discussion but I wouldn't call it a negotiation," U.S. Ambassador Susan Rice told reporters after further talks between the permanent five members on Wednesday.
Pushing ahead with unilateral sanctions, the U.S. Treasury on Wednesday added 29 Syrian officials including virtually all of Assad's cabinet to the official U.S. blacklist.
The United States also designated one company controlled by Rami Makhluf, who the Treasury statement called a "crony" of Assad, as well as five companies linked to the Syrian government agency responsible for non-conventional weapons programs.
Syria's undeclared chemical weapons stockpile – believed to be the largest of its kind in the Middle East – has been reported to include sarin nerve agent, mustard gas and cyanide.
Western and Israeli officials have said in recent days that the Assad government appears to be shifting some chemical weapons from storage sites, but it is not clear whether the operation is merely a security precaution.
The Syrian government denies carrying out the operation.
U.S. officials said they had no indication Syria had lost control of any of its chemical weapons, but Panetta warned that the United States would be watching closely.
"We've made very clear to them that they have a responsibility to safeguard their chemical sites and that we will hold them responsible should anything happen with regards to those sites," Panetta said.
The chairman of the U.S. House of Representatives intelligence committee, Republican Rep. Mike Rogers, said the risks involved were tremendous.
"My concern all along has been that we are not prepared if the Assad regime falls on what happens next with the chemical and biological weapons stockpile, let alone the advanced conventional weapons systems," Rogers said.
Reuters