Gaza Christians protest forced conversion to Islam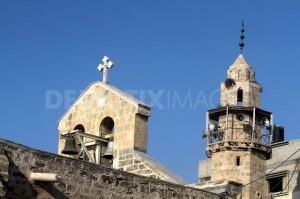 Scores of Christians in the Gaza Strip organized a sit-in Tuesday at the Greek Church of Gaza to protest what they call the "kidnapping" of five Christians by an unknown Islamist group seeking to forcibly convert them to Islam.
A smaller protest was held Monday at the church in which Christians, who have long complained of persecution in Gaza, demanded that Hamas, which controls the seaside territory, return the five individuals.
The Palestinian Center for Human Rights said in a statement Tuesday that the five people had met with their family members and affirmed that they had not been forced to convert.
Family members of the five Christians believe the young man, a woman and her three children are being held against their will by a Hamas lawmaker, and say that it is impossible that they have changed their beliefs.
"If my son is not kidnapped, why don't they just let him go home with me?" asked Huda Amash, mother of Ramez Amash, 25, the missing young man. "My son was brought up as a Christian. His love of Jesus is strong enough to keep him Christian. He cannot change his beliefs all of a sudden."
The Hamas police, however, said the five people had not been kidnapped and that they have converted to Islam voluntarily and without any pressure. Hamas officials said the individuals are staying with a Muslim family under the protection of the police.
Christian leaders in Gaza say there are about 1,500 Christians in Gaza, down from about 3,500 in 2008.
LA Times