Putin, Annan Meet on Syria Crisis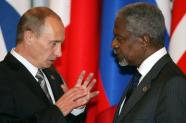 The UN and Arab League envoy to the Syrian crisis has begun his meeting with the Russian president by saying that Syria is at a crossroads, as violence escalates.
Vladimir Putin adamantly opposes any international military intervention, and has strongly supported envoy Kofi Annan's plan for ending the 16 months of fighting in which activists say some 17,000 people have died.
Annan's six-point plan was to begin with a cease-fire between government forces and rebels, followed by political dialogue, but increasingly intense fighting has called into question whether the plan is obsolete.
At the opening of the meeting in Moscow Tuesday, Putin promised Annan that Russia will do all it can to support him.
The ITAR-Tass news agency reported Annan as saying "the Syrian crisis is at a crossroads."
ABC/ AP