Massacre Reported in Syria as Security Council Meets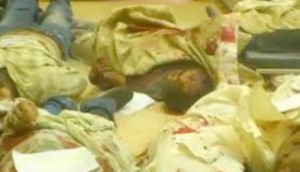 Syrian opposition activists said more than 200 people were killed in a Sunni village on Thursday by government forces using tanks and helicopters, which, if confirmed, would be the worst in a series of massacres that have convulsed Syria's increasingly sectarian uprising against President Bashar al-AssaThe Syrian government also reported a mass killing in the village but said it was committed by armed terrorist groups, the official description for Mr. Assad's opponents. It said at least 50 people were killed.
The site of the reported massacre, the village of Tremseh near the city of Hama, a focal point of the 17-month-old uprising, was the first mass killing since United Nations cease-fire monitors suspended their work in Syria a month ago because conditions were too dangerous.
Activists in Hama posted a video on YouTube accusing the government of "ethnic cleansing in Hama," and said the killings in Tremseh were "unlike any massacre that has previously occurred in Syria." Tremseh is a Sunni village surrounded by villages populated by Mr. Assad's Alawite sect.
Initial reports of an atrocity in Tremseh came as Security Council diplomats were meeting in a closed session at the United Nations to work on drafting a new resolution to force Mr. Assad's government and its armed antagonists to honor a cease-fire, allow the monitors to resume their work, and carry out a peace plan by the special envoy Kofi Annan. That plan has been ignored despite repeated pleas by Mr. Annan to Mr. Assad.
The Syrian Muslim Brotherhood, one of Mr. Assad's most outspoken foes, issued a statement blaming not only Mr. Assad but also his foreign backers for the massacre. It singled out Russia, Iran and Mr. Annan.
"The Muslim Brotherhood in Syria do not consider Bashar the Beast the only one responsible for this horrific massacre," it said. "Responsibility for this and for previous massacres also lies with Annan, with the Russians and the Iranians, and all those states who claim they are protecting peace and stability yet stay silent and skulk away from taking any responsibility."
Reports by the Local Coordination Committees, an anti-Assad group in Syria, said many Tremseh victims were shot as they tried to escape the bombardments. The group put the death toll at 200, and activists reached by telephone said it could be as many as 250. The Syrian Observatory for Human Rights, a British-based group with contacts in Syria, said that government troops "bombarded the village using tanks and helicopters" and that the death toll exceeded 100.
Syria's state television ran a series of urgent bulletins attributing the high toll to clashes between the security forces and terrorist attackers. It said that security forces had arrested a number of suspects in the village and had seized significant weapons caches including some from Israel, another standard government accusation meant to imply Israeli subterfuge.
The state television report said that security forces had entered the village only after receiving "calls from local residents to save them from the terrorist groups which committed massacres against civilians."
Abu Mohammad, a resident of a nearby village named Kfar Hod, who said he had visited Tremseh afterward, described in a telephone interview a scene of devastation, with bodies strewed in fields, on streets and in private homes. He said about 50 corpses had been retrieved from the Orontes River adjoining the village. Most residents were farmers, said Abu Mohammed, who did not want to be identified by his complete name for fear of retribution.
He said a convoy of vehicles from Alawite villages had parked outside the village early Thursday, including five trucks filled with soldiers, and began shooting. They were backed by tanks along the village's eastern edge. Pro-Assad militiamen known as shabiha deployed on the western edge of the village, he said, and "fired at anyone or any car that tried to leave the village."
The village lies just west of Hama, along a fault line running roughly parallel to the Orontes River between the highlands populated by Alawites and the plains dominated by Sunni Muslims, the majority in Syria and the bulk of the armed opposition. Should Syria descend into a full-blown civil war, as many now fear, experts expect the bloodletting to be especially fierce in the string of villages that run along that line because they are so religiously and ethnically mixed — not only Alawites and Sunnis but also Christians, Ismailis and other sects from the patchwork of Syria's groups.
The previous largest massacre, in Houla, where 108 people were killed on May 25, was farther south along the same line. Opposition groups said Mr. Assad's forces did the killing in Houla. But Mr. Assad, in a recent television interview, placed blame for the atrocity on his enemies, who he said had dressed in army uniforms to make the government look bad.
Word of the Tremseh killings came as new fractures opened in Mr. Assad's hierarchy. The first ambassador to break with him since the uprising began exhorted his countrymen to join the revolution, and he urged the armed forces to "turn your guns on the criminals from this regime."
The statement by the ambassador, Nawaf Fares, who defected on Wednesday from his post in Baghdad and is believed to be in Qatar, came as the Syrian government announced that he had been dismissed and could face prosecution. That was essentially a confirmation that Mr. Fares had joined Mr. Assad's enemies.
His remarks, broadcast by Al Jazeera in a video statement and an interview, also denounced Iran for providing Mr. Assad with military and economic support.
"Iran is contributing to the problem, it is a cause of the problem, so how can it be part of the solution?" he said.
Earlier Thursday, antigovernment activists posted videos online claiming that Syrian forces had added unguided cluster bombs, designed to maximize damage and casualties, to their arsenal. Weapons experts said the videos were credible. Steve Goose, arms division director at Human Rights Watch, said if the images were confirmed it would be the first documented use of cluster munitions in the conflict.
NY Times