Burns brought a letter from Obama to Egypt's Morsy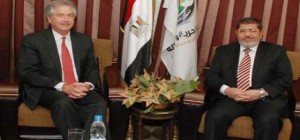 US Deputy Secretary of State William Burns who is visiting Egypt brought a letter from President Barack Obama to Egypt's new President Mohammed Morsy.
The US Embassy in Cairo said in a statement Saturday that Burns will meet during his visit "with a broad spectrum of Egyptian leaders, politicians, and civil society representatives."
Burns' visit is scheduled to conclude on Sunday.
The US Department of State announced Thursday that Secretary of State Hilary Clinton will visit Egypt on 14 July to express US support for Egypt's democratic transition and economic development.
Clinton is to become the first top US diplomat to visit President Mohamed Morsy, the Muslim Brotherhood candidate who last week became the country's first Islamist leader.
She will meet with senior government officials, civil society and business leaders, and inaugurate the US Consulate General in Alexandria.
In a statement on Thursday, US State Department Spokesperson Victoria Nuland said that the visit is part of a tour to France, Japan, Mongolia, Vietnam, Laos, Cambodia and Israel.
Clinton's last visit to Egypt was in March 2011, when she toured Cairo's Tahrir Square in the wake of the protests that ousted Hosni Mubarak.
Egypt Independent
Photo: a file photo of Egypt's new President Mohammed Morsy with Mr William Burns, Assistant U.S. Secretary of State.