Bassil: Dahiyeh residents preventing electric repairs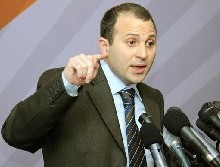 Energy Minister Gebran Bassil told Al-Jadeed television on Friday that some parties were preventing the repair of electrical malfunctions in Dahiyeh.
" On Thursday , a team of Electricité Du Liban (EDL) technicians went to Beirut's southern suburb of Dahiyeh to fix a malfunction. They were threatened and prevented from repairing the malfunction," Bassil said
Dahiyeh is Hezbollah's stronghold. According to local reports Hezbollah supporters do not pay their electric bills and when bill collectors show up in their area they get threatened and beaten up.
Bassil is a member of the Free Patriotic Movement which is headed by his father-in-law MP Michel Aoun, a close ally of Hezbollah
Bassil also commented on power blackouts in most Lebanese areas and said there were no funds available to purchase power from Syria. Iran, which is reportedly supplying Syria 100 MW of power from the Iraqi grid , asked Lebanon to purchase some of this power from Syria.