Arab League chief: Peacekeepers needed in Syria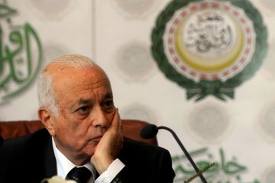 The international community should deploy a peacekeeping force, instead of the U.N.'s existing, beleaguered observer mission, to help end the killing in Syria, the secretary general of the Arab League said Monday. The appeal could have a rough time getting past Syria's stalwart U.N. allies Russia and China.
Nabil Elaraby's comments came as activists said Syrian forces had renewed shelling the city of Homs, the latest move in Syrian President Bashar Assad's crackdown on an increasingly armed popular uprising. The opposition says more than 14,000 people have died since the uprising began in March 2011, including more than 3,400 security forces.
U.N. observers in Syria are charged with checking compliance with a cease-fire that was supposed to go into effect on April 12 but has not taken hold. On Sunday, mission head Maj. Gen. Robert Mood demanded that the warring parties allow the evacuation of women, children, the elderly and those who are sick.
The Arab League chief argued that it was time for a change in the U.N. mandate and a new type of mission.
"And by that I mean a peacekeeping force and not a military force," Elaraby said during a visit to Cyprus. "When there are two parties that have (resorted) to fighting, you cannot have someone just observing unless they both accept (a settlement). So what you need is someone who can impose a ceasefire and not to fight."
Elaraby said forces deployed in war zones under a peacekeeping mandate have shown in the past to be an effective tool in quelling violence, adding that he has already asked that the observer mission's mandate be amended.
Peacekeeping missions can vary widely depending on the contours of their mandate, but generally speaking, they differ from observer missions in that peacekeepers are armed and have the ability to enforce a cease-fire instead of merely watching whether it is being adhered to.
The hurdle for gaining U.N. Security Council approval for a peacekeeping mission is likely to be much higher than for an observer mission. Elaraby's request may run into opposition from Russia and China, both veto-wielding Security Council members who have already shielded Syria from sanctions despite the ongoing slaughter in the country.
Russia also continues to supplies Syria — its last remaining ally in the Arab world which hosts its only naval base in the Mediterranean sea — with arms, although it insists they are only defensive weapons.
The Assad regime's troops have been waging a fierce offensive through towns and villages nationwide, trying to root out rebels by shelling urban areas with tanks and attacking from helicopters.
Rebels also have attacked Syrian forces, mostly trying to burn tanks. But the U.S. has refused to arm anti-Assad rebels in part to avoid a proxy fight in which Iran, Russia and others arm one side and the U.S. and Sunni Arab states arm the other.
Elaraby urged the U.S. and Russia to find common ground on ways to end the violence in the country and also called on China to help.
"What is happening in Syria is a grave, grave egregious violation of human rights," Elaraby said. "We know that this matter will not be resolved unless both Russia and China come on board."
President Barack Obama will meet Russian President Vladimir Putin as part of a Group of 20 economic meeting in Mexico on Monday. The two leaders are expected to hold sideline discussions on the Syrian crisis.
Fox News