Families of kidnapped Lebanese block airport road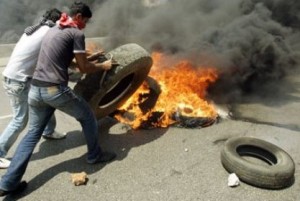 The families of 11 Lebanese pilgrims kidnapped in Syria are blocking the highway leading to Beirut airport to protest the Lebanese government's failure to secure their release.
The Shiite pilgrims were abducted May 22 after crossing into Syria from Turkey on their way to Lebanon. A previously unheard of group calling itself "Syrian Rebels in Aleppo" claimed responsibility, saying five of the hostages were members of the militant Lebanese Hezbollah group. The group and their families deny that.
Travelers heading to the airport Monday had to walk with their luggage about a kilometer (5/8 of a mile) to the airport because of the demonstration.
The families threaten to maintain their sit-in at the airport highway indefinitely.
Sin and unethical
Commenting on the blocking of the main roads throughout Lebanon by Hezbollah supporters in the aftermath of the kidnappings Hezbollah Secretary General Sayyed Hassan Nasrallah said on May 25 :
"Protesting and blocking roads is useless, this is a sin and it is unethical. What good did it do? The abductors were not Lebanese… who were you trying to pressure? I call all people to abstain from such acts if in the future such an incident would reoccur."
The current Lebanese government is controlled by Hezbollah and its March 8 allies. It is not clear whom are the relatives of the kidnapped Lebanese are trying to pressure
Huffington Post, Ya Libnan