Phalange party endorses LF Koura candidate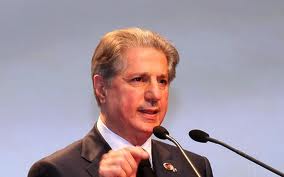 Former Lebanese president and current Phalange Party leader Amin Gemayel on Thursday endorsed the Lebanese Forces (LF) candidate, Fadi Karam, who will compete for the Greek Orthodox seat in the Koura district by-election.
"We will join hands in these elections," Gemayel told Voice of Lebanon radio station.
This by-election is organized to choose a successor for former LF MP Farid Habib, who passed away on May 31.