UN declares that Syria now in full-scale civil war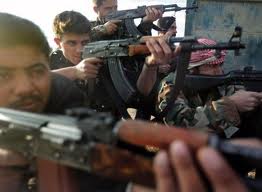 Syria is now in a full-scale civil war, UN peacekeeping chief Herve Ladsous said, as the United States voiced fears the UN mission in the country may not survive once its mandate expires in July.
World powers are groping to find a way to end the bloodshed in Syria with the toll growing daily despite a ceasefire that should have gone into effect from April 12, and amid reports of children being used as human shields.
Asked whether he believed Syria is in a civil war, Ladsous told reporters: "Yes I think we can say that. Clearly what is happening is that the government of Syria lost some large chunks of territory, several cities to the opposition, and wants to retake control.
"I think there is a massive increase in the level of violence, so massive indeed that in a way it indicates some change of nature," Ladsous added.
The under secretary general for peacekeeping operations is the most senior UN official to indicate he believes there is a civil war. UN leader Ban Ki-moon said last week that he believed it was "imminent".
Given the prolonged violence in the 15-month conflict, US secretary of state Hillary Clinton openly questioned whether the UN mission in Syria could survive once its 90-day mandate expires on July 20.
"If there is no discernible movement by then it would be very difficult to extend a mission that is increasingly dangerous for the observers on the ground," Clinton told a forum in Washington.
She also accused Russia, a longstanding ally of Syria, of helping to escalate the violence by sending attack helicopters to the military forces of Syrian President Bashar al-Assad.
"They have from time to time said that we shouldn't worry, that everything they're shipping is unrelated to their actions internally. That's patently untrue," the top US diplomat insisted.
UN-Arab League envoy Kofi Annan has been trying to implement on the ground his six-point peace plan, which calls for both sides to lay down their arms immediately and participate in a Syrian-led political transition.
But there has been increasing violence as Assad has refused to step aside and instead unleashed his heavily armed forces against the opposition.
Activists say some 14,100 people have now been killed in the uprising against the Assad family, which has ruled Syria for some four decades.
In a report on Tuesday, the United Nations accused Syrian troops of using children as "human shields," saying children as young as nine had been victims of killing and maiming, arbitrary arrest, detention and torture.
"Rarely have I seen such brutality against children as in Syria, where girls and boys are detained, tortured, executed, and used as human shields," Radhika Coomaraswamy, UN special representative for children in armed conflict, told AFP before releasing the report.
With the Annan peace plan not yet in effect, the United Nations and the UN Security Council are studying "various options" on its future, Ladsous said. A central element would be to see whether a political dialogue can be started.
A diplomatic flurry in past days has seen various ideas put forward on how to end the violence, including finding ways to unite the splintered Syrian opposition.
UN observers on Tuesday again reported they had come under fire as they tried to enter a town to verify reports of massacres and atrocities where they had been told a large number of women and children were trapped.
The UN Supervision Mission in Syria had been trying to reach the northwestern town of Al-Haffe, a Sunni Muslim enclave in a region mainly populated by members of Assad's Alawite minority, where hundreds of civilians are reported trapped by an army siege of holed up rebel fighters.
A UN official, speaking on condition of anonymity, said the crowd that surrounded the UN convoy was carrying government flags and that at least 20 bullets hit the car carrying the observers.
The United States has voiced concerns that the regime is planning to carry out new atrocities, after the massacre of 55 people last week in Al-Kubeir and at least 108 near Houla in late May.
The almost 300 observers in the UN mission face a "grave security risk," Ladsous said. UNSMIS is "a peacekeeping force when there is definitely no peace to observe, that summarizes the situation," he added.
But the Syrian government hit back accusing Washington of siding with the rebels in their armed uprising which inflicted mounting losses on the security forces this month.
"The US administration is pushing forward with its flagrant interference in Syria's internal affairs and its backing of armed terrorist groups," a foreign ministry statement said.
"US statements distort the truth and what is happening on the ground while encouraging armed terrorist groups to carry out more massacres … not only in Al-Haffe but throughout the country."
India Times