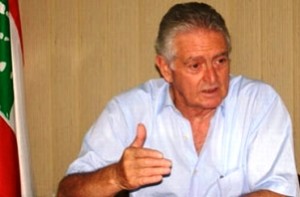 National Liberal Party leader MP Dory Chamoun told Al Liwaa newspaper in remarks published on Monday that March 14 coalition is united with respect to its conditions for participation in the dialogue talks with the exception of former president Amin Gemayel, despite acknowledging that Hezbollah arms are an obstacle in having a strong state.
He added that the dialogue talks should address the subject of "Hezbollah" arms , and agree that the decision of peace and war must be taken by the state and not by Sayyed Hassan Nasrallah the Secretary-General of Hezbollah.
Commenting on Free Patriotic Movement leader Chamoun said: "Michel Aoun is not a balanced person and if he was we would have stayed together" . He added "Aoun is trying to use Hezbollah arms to reach the chair of the presidency of the Republic."
Commenting on Syrian president Bashar al Assad he said :" Like all the dictators of the Arab World Assad will fall and will not be able to establish a Alawite state in Syria ," adding that"the Christians do not need Assad to protect them"
Chamoun told al Liwa that he is against the proposed electoral law that calls for proportional representation and that despite differences in politics with Progressive Socialist party leader MP Walid Jumblatt they both agree on coexistence in Mount Lebanon."
Jumblatt is also opposed to proportional representation and prefers the law that was used during the 2009 elections. Chamoun and Jumblatt ran on the same electoral list in 2009
This error message is only visible to WordPress admins
Error: No connected account.
Please go to the Instagram Feed settings page to connect an account.