Military action in Syria demands unity: Clinton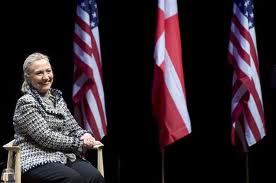 U.S. Secretary of State Hillary Rodham Clinton said Thursday that every day of slaughter in Syria is strengthening the case for tougher international action, yet stressed that military intervention would require support from the world community and Syria's ally Russia.
Speaking to Danish university students, Clinton noted that U.N. and international backing made possible last year's coalition that helped force Moammar Gadhafi from power in Libya. But she lamented that Russia and China are standing in the way of similar action in Syria.
She also suggested that a military effort against Syrian President Bashar Assad's regime would be far more difficult.
Asked when the U.S. might opt for a military option, Clinton said, "Every day that goes by makes the argument for it stronger."
She said Washington would continue pressing its case to Moscow, which has promised to block any moves at the United Nations to obtain a military mandate for intervention. Russia and China have twice shielded Assad's regime from U.N. Security Council sanctions.
Clinton spoke as activists reported more shelling in the central Houla area where more than 100 people were massacred last week.
The Britain-based Syrian Observatory for Human Rights and the Local Coordination Committees activist groups said Thursday's shelling of Houla was mostly by heavy machine guns. Survivors of last week's Houla massacre blamed pro-regime gunmen for the killing of many children and women, though the government denied the involvement of its troops.
The Obama administration has called for Assad to step down and clear the way for a political transition. Mindful of a war-weary American public, it has stopped short of advocating direct U.S. military engagement in the country and stressed the need for diplomacy, particularly with Moscow, which continues to sell weapons and provide political support to the Assad regime.
On the first leg of a weeklong trip to Europe, Clinton recited the list of hurdles to any military action in Syria.
Beyond international support, she said Assad's opposition lacked the unity that the anti-Gadhafi camp rallied in Libya. Syria's professional military and substantial air defenses also would make intervening far more difficult. And whereas in Libya the U.S. was able to count on the support of Gulf countries in monitoring a no-fly zone and carrying out some airstrikes, the Arab League is split on whether military options should be entertained in Syria.
Clinton also warned about the danger of Syria's unrest spiraling into a larger civil war, which could morph into a proxy war that draws in Iran and other regional powers. She cited Jordanian concerns about its territory, Turkish worries over Kurdish terrorists operating from inside Syria and neighboring Lebanon's long struggle to emerge from decades of sectarian civil war and political instability.
"We know it could actually get much worse than it is," Clinton said. "We are trying to prevent that."
But she said doing nothing wasn't an option, either.
Russia's continued support for Assad "is going to help contribute to a civil war," Clinton warned.
Her comments came a day after America's ambassador to the United Nations, Susan Rice, said U.N. mediator Kofi Annan's peace plan appeared destined to fail. She said countries should start considering options beyond Annan's plan.
Associated Press