MiKati Heads to Turkey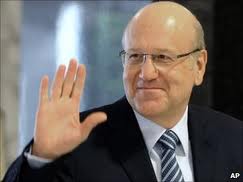 Prime Minister Najib Mikati headed to Turkey on Saturday to hold talks with his Turkish counterpart Recep Tayyib Erdogan, according a report by LBC .
Mikati reportedly received an official invitation to head to Turkey by its Foreign Minister Ahmet Davutoglu when he contacted him Friday to discuss the release of the Lebanese pilgrims who were kidnapped in Syria on Tuesday.
Former PM Saad Hariri's plane has been waiting at Hatay Airport to pick them up since last night but so far the pilgrims never made it to Turkey.
A Free Syrian Army spokesperson said on Saturday that contacts with the rebel group that abducted the Lebanese Shiite pilgrims were interrupted on Friday night.
"Contacts with the rebel group, which is present in Aazaz in Aleppo, have been interrupted since 8 p.m. on Friday," the FSA spokesperson, Khaled Youssef al-Hammoud, told Al-Jadeed television station.
He added that "the Syrian regime is preventing us from acting in order to resolve this issue… they have shelled the team that we had sent to conduct negotiations with the abductors."
The pilgrims were expected to arrive in Lebanon from Turkey at 8:pm on Friday but logistic reasons and normal routine forced the delay, said Interior Minister Marwan Charbel.
The families of the pilgrims issued a statement on Saturday condemning the delay, holding Turkey responsible for it.
They held Turkey responsible for the pilgrims' safety and "ensuring their safe return to Lebanon as soon as possible."
They also voiced their "complete trust in Speaker Nabih Berri and Hezbollah chief Sayyed Hassan Nasrallah in guaranteeing their return."
The 11 pilgrims were kidnapped in Aleppo on Tuesday on their way back from Iran.
The Free Syrian Army has reportedly been trying to locate the pilgrims to free them.
Meanwhile activists on Saturday raised the number of those killed in an alleged massacre by Syrian regime forces in a region in the center of the country to more than 90.
The Britain-based Syrian Observatory for Human Rights said that more than 90 people had been killed in the Houla area in the 24 hours since midday Friday.