Lebanese army deploys in Tripoli areas hit by fighting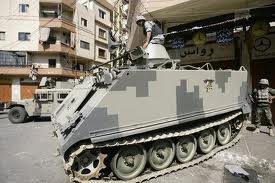 The Lebanese army deployed Tuesday in sectors of Tripoli affected by clashes, calming the area after three days of sectarian fighting that killed nine people, an AFP correspondent said.
Troops entered Syria Street, the frontline of fighting between the districts of Bab el-Tebbaneh, and Jabal Mohsen, at around 6:00 am (0300 GMT).
Bab al-Tebbaneh sits opposite Jabal Mohsen, where the majority of residents are supporters of Syrian President Bashar al-Assad.
Tension between the two neighborhoods in the north Lebanon city had been simmering for years but burst into the open several times after a revolt in Syria against Assad's regime broke out in March 2011.
Lebanese army units started positioning themselves in the two districts late Monday evening and completed their deployment on Tuesday morning in all neighborhoods affected by clashes.
"Thank God, the army has entered and we have peace now," Bab el-Tebbaneh resident Ahmed Jaber told AFP by telephone.
"Some of the people who had fled the area have started to return, but most are still scared because fighting has resumed in the past even after the army has been deployed," he added.
Meanwhile, a clean-up operation began in Bab el-Tebbaneh, with bulldozers removing both roadblocks set up by armed gunmen, and unexploded munitions.
Lebanese electricity company teams also started work in the beleaguered district, after violent clashes left residents of the neighborhood without power.
Battles first erupted on Saturday between residents of the rival neighborhoods after security forces arrested Shadi al-Mawlawi, an Islamist, on alleged charges of belonging to a terrorist organization.
Mawlawi's supporters say he was targeted because of his help for Syrian refugees fleeing to Lebanon.
Some 500 of them blocked a main road leading into Tripoli on Monday and said they would leave only after Mawlawi was released.
A total of nine people, including a soldier hit by sniper fire, died in the port city and dozens were wounded in the fighting.
Al Arabiya