Jumblatt calls for Mawlawi's release, "political solution"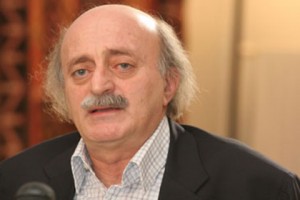 Progressive Socialist Party leader MP Walid Jumblatt called on Sunday for the release of Lebanese citizen Shadi al-Mawlawi and said it was important to reach a political solution for the current events in Tripoli, according to a statement issued by the PSP's press office.
"It is important to release Mawlawi and resolve the issue according to the legal procedures," Jumblatt said, adding that it was not within the General Security's jurisdiction to detain Mawlawi.
He also urged a political solution to the unrest in Tripoli
"It is important to reach a political solution to the problem while keeping the army neutral to domestic arguments in order to maintain its role in protecting civil peace," Jumblatt was quoted as saying
The PSP leader, who contacted President Michel Sleiman, Prime Minister Najib Mikati and other officials to follow up on the situation in Tripoli, also voiced the importance of coordination among Lebanese security forces in order to address the situation.
Mawlawi was arrested after luring him to Finance Minister Mohammad Safadi's Social Services Center under the pretext of granting him $500 benefit for his daughter who is being treated at a hospital in Tripoli.
A bloody clash erupted on Sunday morning between Bab al-Tabbaneh and Jabal Mohsen neighborhoods in Tripoli, which left three people dead, including an army soldier.