Israel:Ramon quits Kadima party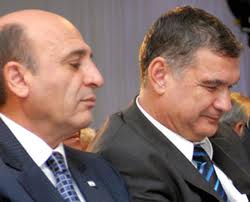 Kadima council chairman Haim Ramon marred the celebrations in the party over Kadima leader Shaul Mofaz's joining the cabinet Wednesday when he sent Mofaz a fiercely-worded letter announcing that he was quitting his post and leaving the party altogether, Israeli daily Jerusalem Post reported on Wednesday
The daily added that Ramon was one of the founders of Kadima in 2005, leaving Labor along with current president Shimon Peres and MK Dalia Itzik. The three of them moderated the image of Kadima, which at the time was seen as a second Likud. He warned Wednesday that the party had returned to be part of the Likud again.
"I cannot remain in the party after it betrayed the vision it was built upon," Ramon said. "There is no more Kadima ideologically. It was founded as a centrist party. Joining this coalition does not mesh with our values."
In a dramatic turn of events that could influence a possible Israeli strike on Iran, Israeli media reports early Tuesday that Prime Minister Benjamin Netanyahu has reached an agreement with the Kadima opposition party for a unity government, canceling an early election.
According to the media reports, Netanyahu forged an agreement with Mofaz of Kadima shortly before parliament was set to vote on holding early elections.