Sarkozy makes impassioned plea for votes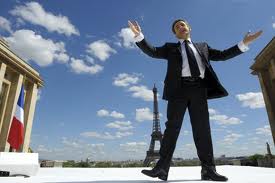 Nicolas Sarkozy mounted a defiant show of force in Paris on Tuesday, wresting the spotlight from traditional trade union May Day marches and vowing to fight to the last against François Hollande, his socialist challenger in Sunday's presidential election.
In an impassioned address to tens of thousands of his conservative supporters, against a backdrop of the Eiffel Tower, Mr Sarkozy implored the crowd to use the last three days of campaigning to "explain, convince and mobilise" voters behind his re-election.
Invoking French heroes from Napoleon Bonaparte to Charles de Gaulle, he said he would battle "until the last second of the last minute" to beat Mr Hollande, who has led him in the polls for months.
Mr Sarkozy staged the rally, the biggest event of his campaign, in calculated defiance of the left's dominance of May day, overshadowing a trade union march on the other side of the city attended by many senior Socialist party figures – although Mr Hollande himself carefully stayed away.
The rally came a day ahead of the only television debate of the campaign on Wednesday evening which Mr Sarkozy sees as an important opportunity to turn the tables on his opponent.
His Paris speech to a predominantly middle class crowd was a conservative call to arms, mixing evocations of France's Christian roots and identity with warnings against the country's vulnerability to the eurozone's debt crisis.
"Look what's happened in Greece and Spain. Nobody wants that to happen in France," he said.
Reviving his 2007 campaign rallying cry to "the French who rise early and work hard", he said "we don't want socialism" and called for a new French social model "where success is no longer regarded with suspicion and merit is rewarded".
Mr Sarkozy noticeably toned down some of his more hard right campaign rhetoric, despite his need to attract a big chunk of the 6.5m voters who backed Marine le Pen, leader of the extreme right National Front, in the first round of the election.
On Tuesday, Ms Le Pen refused to back Mr Sarkozy or Mr Hollande, telling thousands of her followers at an earlier Paris rally that she would cast a blank vote.
Relishing her kingmaker role since winning 17.9 per cent in the first round, Ms Le Pen said she had "no confidence" in either candidate. "On Sunday I will vote blank . . . Each one of you will make your own choice," she declared.
Mr Hollande kept his distance from the trade union parade, travelling instead to Nevers, in central France, to visit the home of Pierre Bérégovoy, a distinctly moderate Socialist prime minister who committed suicide on May 1 in 1993.
In front of a cheering crowd of a few thousand in the square in front of Nevers' Ducal Palace, the Socialist candidate said: "The next president must bring the country together because France is tired of what has been done to it in the last five years."
He paid homage to "all the trade unionists in France" and poured scorn on Mr Sarkozy's rally. "When there are 4m unemployed, who is defending the value of work and who is ruining it?" he said.
He also took aim at Mr Sarkozy's lurch to the right in seeking support from National Front voters, accusing him of "raising the spectre of invasion" and claiming that the extreme right was not democratic. "The chief question is unemployment, purchasing power and fighting inequality," he said.
Financial Times