Obama says defeat of al Qaeda is "within reach"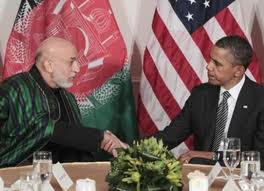 US President Barack Obama on Tuesday reminded Americans that he has wound down two unpopular wars since taking office more than three years ago and said the defeat of al Qaeda is "within reach."
"My fellow Americans, we have traveled through more than a decade under the dark cloud of war. Yet here, in the pre-dawn darkness of Afghanistan, we can see the light of a new day on the horizon," Mr. Obama said in a high-profile television address from the war-torn nation.
"The Iraq War is over. The number of our troops in harm's way has been cut in half, and more will be coming home soon. We have a clear path to fulfill our mission in Afghanistan, while delivering justice to al Qaeda," Mr. Obama said in the remarks, which lasted about ten minutes.
Mr. Obama arrived in Afghanistan under cover of darkness for an unannounced visit to meet with U.S. troops and to sign a ten-year agreement with President Hamid Karzai on the role of U.S. forces beyond the end of the war in 2014.
Shortly after arriving, about midnight local time, Mr. Obama and Karzai inked a pact to designate Afghanistan a major non-NATO ally. The agreement says the U.S. will provide aid, advisers and support after NATO combat troops leave in 2014.
The visit comes on both the one-year anniversary of the death of Osama bin Laden and the day a new report from the Pentagon giving the war in Afghanistan a mixed review was released.
"The goal that I set – to defeat al Qaeda, and deny it a chance to rebuild – is within reach," Mr. Obama said, adding that "there will be difficult days ahead. The enormous sacrifices of our men and women are not over."
Issued twice a year to Congress, the Defense Department report said overall insurgent attacks in Afghanistan fell last year for the first drop in five years and praised Afghan forces for their increased security capabilities. At the same time, the Defense Department said corruption remains widespread and violence in the southern region of Kandahar has increased.
There are around 130,000 forces in Afghanistan, including around 90,000 U.S. forces and 40,000 troops from other nations. Those forces are scheduled to end combat operations after 2014, about thirteen years after the war began.
The visit is the third trip for Mr. Obama as president, with his most recent time there taking place in late 2010.
After signing the partnership deal, Obama headed to Bagram air base, where he spoke to U.S. troops.
"The reason America is safe is because of you," Obama told the troops.
Tuesday night's remarks also fall on the nine-year anniversary of President George W. Bush's speech aboard the U.S.S. Abraham Lincoln where a sign behind his back declared "Mission Accomplished" for the ship's return to port.
"The battle is not yet over," he told a cheering crowd at Bagram airbase. "There is going to be heartbreak and pain and difficulty ahead. But there is a light on the horizon because of the sacrifices you've made."
CBS