Murder of a Lebanese in Venezuela outrages Baysour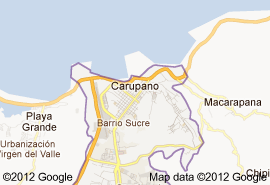 Jawad Walid al-Aridi, 22, a Lebanese national was killed in Carúpano a coastal city in the eastern Venezuelan state of Sucre during an attempted robbery, LBC television reported on Saturday evening.
The residents of Aridi's hometown of Baysour, in Mount Lebanon were outraged and demanded the government to launch an immediate investigation into the case.
The Lebanese government "should follow up the crime to punish those who are guilty and bring them to justice in order to protect our expatriate children," a resident of Baysour said.
Lebanese Ambassador to Venezuela Charbel Wehbe informed Foreign Minister Adnan Mansour that the Venezuelan authorities identified the killer of al-Aridi and that Venezuelan authorities "are carrying out the necessary investigations."
Wehbe, according to the NNA report, told Mansour that the victim was engaged in a dispute with another person.
Wehbe said that the murder was due to the security chaos in the country.
Mansour earlier contacted Wehbe to inquire about the case and launch a swift probe concerning the murder.
"We are waiting for any new information provided by Wehbe," Mansour told National News Agency.
Unconfirmed reports revealed that the victim is closely related to Lebanese minister of Public works, Ghazi al Aridi, who also is a Baysour resident.
More dangerous than Iraq
Some in Venezuela joke that they might be safer if they lived in Baghdad. The numbers bear them out.
In Iraq, a country with about the same population as Venezuela, there were 4,644 civilian deaths from violence in 2009, according to Iraq Body Count; in Venezuela that year, the number of murders climbed above 16,000.
Venezuelans have absorbed such grim statistics for years. Those with means have hidden their homes behind walls and hired foreign security experts to advise them on how to avoid kidnappings and killings. And rich and poor alike have resigned themselves to living with a murder rate that the opposition says remains low on the list of the government's priorities.