No more shopping in Paris – the 'REAL dictator' of Syria is banned from the EU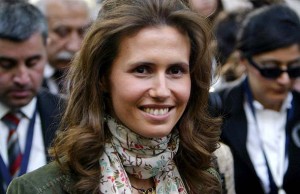 The wife, mother, sister and sister-in-law of Syrian President Bashar Assad will be added to the European Union's sanction list, ministers said, aiming to pressure him into ending a crackdown on popular unrest and restrict his family's luxury lifestyle.
Foreign ministers were expected to vote Friday on imposing a travel ban and asset freeze on the women in the bloc's efforts to increase pressure on Assad to end the violence in his country, The Daily Telegraph reported.
"Their behavior continues to be murdering and totally unacceptable in the eyes of the world," British Foreign Secretary William Hague said.
The inclusion of Assad's British-born wife, Asma, came after e-mails detailing her shopping sprees were made public this week.
Asma Assad and female relatives of other regime leaders would join eight government officials and two oil firms added to 114 Syrians and 38 organizations already subject to the freezing of assets and bank accounts in European Union member nations, the Telegraph said.
Asma Assad, born in Acton, England, married the Syrian leader in late 2000, the year he became president after the death of his father, Hafez.
A travel ban would not affect Asma Assad's travel to Britain because she holds dual citizenship, the Telegraph said.
EU foreign ministers meeting in Brussels also expanded the list of people facing asset freezes and bans on travel to the EU to several other Syrians, and barred European companies from doing business with two Syrian oil companies, EU officials said.
The decisions, which come into force on Saturday, build on 12 previous rounds of sanctions aimed at isolating Assad, including an arms embargo and a ban on importing Syrian oil to the EU.
In her only statement since the crisis broke out a year ago, Asma Assad said, "The president is the president of Syria, not a faction of Syrians, and the first lady supports him in that role."
UPI, Reuters