Syria says it will cooperate with UN over humanitarian chaos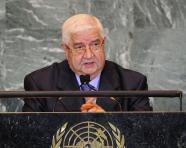 Syrian Foreign Minister Walid Muallem told the visiting UN humanitarian chief on Wednesday that his government is ready to cooperate with her team which is seeking access to battered protest cities.
In his meeting with Valerie Amos, Muallem "underlined Syria's commitment to cooperate with the delegation within the framework of the respect, sovereignty and independence of Syria and in coordination with the foreign ministry," the state SANA news agency reported.
SANA quoted Muallem as saying that Syria was doing its best to provide food and medical assistance to its citizens despite "the burden it faces as a result of unfair sanctions imposed by some Western and Arab nations which are affecting the population."
Amos's two-day visit comes after an international outcry over the previous refusal of President Bashar al-Assad's regime to let her in despite mounting concern about the plight of trapped civilians.
SANA said Amos told Muallem the aim of her visit was to assess the humanitarian situation and to determine what can be done to provide the population with basic assistance.
Now Lebanon