Soccer: Even in defeat, Lebanon could celebrate a major victory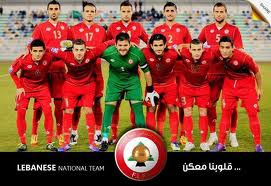 ABU DHABI, United Arab Emirates — Even in defeat, Lebanon's national soccer team could celebrate a major victory.
Lebanon lost, 4-2, to the United Arab Emirates at the Al Wahda stadium on Wednesday — despite the full-throated support of thousands of Lebanese fans who had traveled to the Olympic qualifying match. But Lebanon nonetheless advanced to the final stage of qualification in the Asia region for the first time by virtue of South Korea's 2-0 victory over Kuwait in Seoul.
"This was the aim we had from the beginning, and when we started talking about this out loud people were laughing at us," said Theo Bücker, the coach of the national team. His players enjoyed a muted celebration, partly out of embarrassment from defeat in front of so many Lebanese fans.
"I know we have qualified, and I am happy, but I hate losing," the goalkeeper Youssef Mohammad said.
At the team's hotel three hours before kickoff, fans and dignitaries draped in the Lebanese flag congregated in the lobby for a chance to meet the players. Several politicians from the rival anti-Syrian March 14 and pro-Syrian March 8 factions that have dominated Lebanese politics were also on hand. The national team offered both the chance to be on the same side for a change.
"We are all gathered, we are all united under our flag," said Nadim Gemayel, at 29 Lebanon's youngest member of Parliament and a member of the March 14 coalition. "This is a success for our flag, a success for our country and not any one sectarian group."
Gemayel's father, Bachir, was president-elect when he was assassinated in 1982. Syria, or groups aligned with Syria, were suspected of carrying out the bombing.
Lebanon appeared to start the match nervously. The U.A.E. took an early lead when Mohammad fumbled the ball into his own net. The striker Mahmoud El Ali tied the score before the U.A.E. took the lead again. Lebanon fought back once more to 2-2 with the last kick of the first half before goals by Ismaeil Matar and Basheer Saeed gave the U.A.E. a cushion. Many of the fans left before the final whistle.
For Lebanon, whose team represents several major religious factions, the adventure continues. The team will be drawn with four other leading Asian teams in a final qualification group which could include Japan, Australia and Iran, whose government backs Lebanon's Hezbollah movement.
Even a downbeat Bücker could still appreciate the triumph of making it to the final round.
"It's great, great, great," he said. "But I also hope that the spectators are mature and realize that we can't always win all of our matches."
NYT