Syria's crackdown continues as Assad calls for vote on new constitution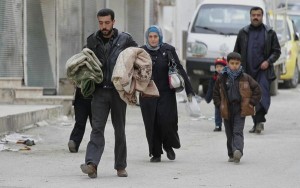 Beirut, Lebanon- Syrian President Bashar al-Assad on Wednesday ordered a referendum to be held Feb. 26 on a new constitution, a move that appeared unlikely to defuse the country's rapidly escalating crisis.
The document allows multiple political parties to compete in elections for the legislature, sets a limit of two seven-year terms on the president and eliminates a clause that guarantees political supremacy to Assad's Baath Party, according to copies of the draft circulating in the Syrian press.
But it also gives sweeping powers to the president to decree laws, appoint the government and dissolve parliament, and seemed designed to ensure that the current system remains largely intact. With most members of the opposition calling for the ouster of the Assad regime, activists said the document falls far short of their demands for radical change.
"It's a non-starter," said Shakeeb al-Jabri, a pro-democracy activist who is based in Beirut. "It's incredibly weak. The powers it gives to people are limited. It confirms our fears that there will be no true reform under Assad, only cosmetic reforms."
The announcement comes amid a major offensive launched by Syrian security forces to quell the country's 11-month-old revolt, in which more than 5,400 people have been killed, according to the United Nations. Hundreds have reportedly died in this latest assault, many of them in the besieged neighborhood of Bab Amr in the city of Homs, which has emerged as the epicenter of the increasingly armed revolt.
On Wednesday, security forces expanded the offensive to include the city of Hama, and attacks have also taken place in opposition strongholds in the northern province of Idlib, the eastern province of Deir el Zour and the southern province of Daraa. The human rights advocacy group Avaaz said it had documented 20 deaths in Wednesday's attacks.
Activists also questioned how the government intended to hold a referendum at a time when violence is engulfing the country. "I'm not sure how people are supposed to go out and vote when their towns and cities are under bombardment," Jabri said.
The intensity of this latest offensive, which began on the eve of a failed attempt by the United States and its allies to secure a U.N. Security Council resolution condemning Syria, suggests the government may be hoping it can crush the uprising before Feb. 26. The resolution, which was intended to add weight to an Arab League proposal for Assad to surrender power, was vetoed by Russia and China.
Russia has since thrown its full support behind Assad's reform program, which had been promised since the start of the uprising nearly a year ago. In a speech in January, Assad pledged to hold a referendum in February, and on Wednesday, Russia's Foreign Minister Sergei Lavrov described the move as "better late than never."
"Of course, we believe that the adoption of a new constitution in Syria is a step forward toward political pluralism," Lavrov said after talks with his Dutch counterpart, Uri Rosenthal, in The Hague.
The announcement of a date for the vote came ahead of an expected flurry of diplomatic activity in the coming days aimed at solving the Syria crisis, which many fear could escalate into a full-blown war and spill beyond its borders.
Lavrov is expected to meet Thursday with French Foreign Minister Alain Juppe to discuss a French proposal for a new Security Council resolution. Later in the day, the U.N. General Assembly is due to vote on a nonbinding resolution put forward by the Arab League that would condemn the brutality of the Syrian security forces and call for their withdrawal from residential areas.
On Feb. 24, officials from the United States, the European Union and the Arab League are among those expected to attend a Friends of Syria meeting called by Secretary of State Hillary Rodham Clinton in Tunisia to explore ways of helping the Syrian opposition in its efforts to force Assad's departure. A French Foreign Ministry spokesman told reporters in Paris on Wednesday that Juppe plans to raise the possibility of opening "humanitarian corridors" into Syria to aid suffering civilians, a suggestion that has been raised before but not seriously pursued.
The moves point to a sharp divide within the international community between those who want Assad to leave, led by the United States, and those backed by Russia, including Iran and China, who support his program of limited reforms twinned with a crackdown against the opposition.
Neither strategy seems likely to work, said Andrew Tabler of the Washington Institute for Near East Policy.
"There's a lot of gambling going on," he said. "The Russians are betting on Assad being able to do the one thing he's never done, which is reform. And the U.S. is betting on something we're not able to accomplish, which is to persuade the regime to step down."
"If these don't work, you'll have more insurgency and more civil war," he said.
In office until 2028 plausible
Assad hailed the constitution as heralding a "new era in cooperation with all spectrums of the Syrian people to achieve what we all aspire for," in comments quoted by the official news agency SANA.
The document also seemed likely to assure his survival for many years to come. The last referendum, held in 2007, saw 97.62 percent of the population endorse Assad's second term as president, up from 97.24 percent in 2000, when he first took office.
Parliamentary elections would be held 90 days after the constitution is approved, but Assad would remain in power until his current term expires in 2014. The president would retain control over the security services and also over who would be able to compete in the elections, making it plausible he could remain in office until 2028.
One clause gives the president the right to take unspecified "measures needed to remedy the situation" in the event of a "grave danger that threatens national unity or well-being, territorial integrity, or that hinders state institutions," a description that could be applied to the current crisis.
WP