Lebanon's ISF foils an attempt to assassinate MP Sami Gemayel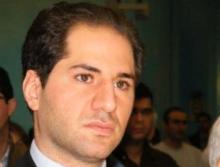 The Lebanese Internal Security Forces reportedly foiled an attempt to assassinate Phalange Party's Central Committee Coordinator MP Sami Gemayel, MTV reported Thursday evening.
This comes after Internal Security Forces chief Ashraf Rifi confirmed last Saturday reports of a foiled assassination attempt against security officials.
He revealed that head of the ISF's Information Branch Col. Wissam al-Hassan was the target of the foiled attempt.
On Monday there were also reports that Speaker Nabih Berri and Progressive Socialist Party MP Walid Jumblatt may be targeted for assassination
MP Sami Gemayel is the son of former Lebanese president and current Phalange party leader Amin Gemayel.
Sami's brother the late Pierre Amine Gemayel was assassinated on November 21, 2006 .
This is a breaking news , more to follow
Update: OTV the mouthpiece of the Free Patriotic Movement denied the report of attempted assassination of MP Sami Gemayel.
FPM is headed by MP Michel Aoun, a staunch ally of Hezbollah and Syria.
Gemayel is an outspoken member of the March 14 alliance and is well known for his opposition to non-state arms of Hezbollah