Wadi Khaled protests against the killing of Lebanese by Syrian troops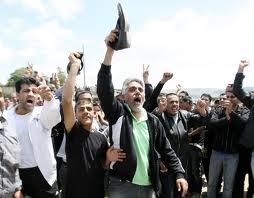 The people of north Lebanon town of Wadi Khaled protested against the killing of three Lebanese men by Syrian security forces, MTV channel reported on Wednesday.
They also protested against the recurrent Syrian army incursions into Lebanese territory and were chanting against Syrian President Bashar al-Assad.
MTV also said that the residents of the town were demanding the Lebanese army deploy in the region to control the border with Syria.
Three Lebanese men were shot and killed Tuesday evening by gunfire from the Syrian side of the border with north Lebanon, National News Agency reported.
NNA said the incident happened near the area of Muqaybaleh in the Wadi Khaled area of Akkar, and struck the three men in their car as they were trying to enter lebanon from Syria
The three were identified as Maher Abu Zeid from the village of Majdal, and brothers Khaled and Mohammad Abu Sakhr, from the village of Heet.
Heavy machine guns were reportedly used by the Syrian troops in the deadly incident.
The shooting came as Arab League observers started a mission in Syria aimed at stopping nine months of bloody clashes during an uprising against the regime.
Some Syrians have fled to Lebanon to escape the fighting, and Syria has complained that weapons are being smuggled across its borders. It was not immediately clear if the shooting was related to the uprising in Syria.
This is not the first border incident
Syrian troops on October 6 shot and killed a farmer near the Bekaa town of Aarsal.
In September, heavy gunshots were fired from Syria towards villages in the northern region of Akkar, creating a state of panic among the residents in the area.
Also in September and on the Lebanon's northern border a Lebanese army patrol was fired at by the Syrian army.
In May, one woman was killed and several other people were wounded when gunshots were fired from Syria towards the town of al-Buqaia in the North.
Syrian troops have regularly staged incursions into Lebanon in recent months, killing several people.
Lebanon and Syria share a 330-kilometer border but have yet to agree on official demarcation.