Syria opposition wants Arabs to intervene militarily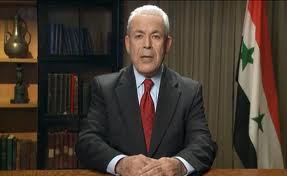 Syria's opposition accused President Bashar al-Assad of trickery in agreeing on Monday to let in Arab League monitors, saying he had no intention of honouring the deal and calling for military intervention to protect civilians from his security forces.
They spoke after Syria, convulsed by a popular uprising since March, signed a League protocol that would allow monitors to observe implementation of a deal it agreed last month to pull troops out of rebellious towns, free political prisoners and start reform-minded talks with dissidents.
Qatar's foreign minister had said that if Assad's government did not drop preconditions and sign the pact, the Arab League would refer the matter to the U.N. Security Council, the key springboard to any wider international intervention.
The Arab League, driven to act by jitters about popular revolts that have overthrown several Arab autocrats this year, slapped sanctions on Syria and suspended its membership of the body over its failure to sign the deal it agreed to.
"Syria's signature of the Arab League agreement is a lie aimed at buying time and discouraging the League from resorting to the United Nations," Burhan Ghalioun of the opposition Syrian National Council said after an SNC meeting in Tunisia.
The agreement "gives yet a new opportunity to the Syrian regime" that it would twist to cling to power, Ghalioun said.
"We want a firmer position – that the League avoids the traps of this lying regime … We urge the Arab League and the United Nations to defend Syrians by establishing isolated and secure areas inside Syria," he told a news conference.
"We need to use force — even in a limited way — or for Arab defence forces to respond … But we will not leave our destiny in the hands of others, even if it were the United Nations," Ghalioun said.
Activist Haitham al-Maleh said the council "is pushing the Arab League to deploy deterrent forces" to protect civilians from Syrian security forces deployed to stamp out protests and an armed insurgency taking shape in some regions.
Both Arab League and world powers have shown no inclination for military intervention because of the risk of kindling wider Middle East conflict, given Assad's anti-Israel alliance with Iran and sectarian divisions that could spread over its borders.
More than 5,000 people have been killed by a U.N. count in violence arising from Assad's dispatch of troops and tanks into cities and towns to crush unrest.
Syria signed the League protocol four days after big power ally and arms supplier Russia, long opposed to any international involvement in tackling the Syrian crisis, opened the way to a possible U.N. Security Council condemnation of Assad's crackdown by floating a surprise draft resolution to that end.
Assad, 46, has ruled Syria since inheriting power in 2000 from his late father, who ruled for 30 years. He says his forces are fighting insurgents backed by foreign powers and that his critics are serving a conspiracy to sow sectarian strife in the country of 21 million at the heart of the Arab Middle East.
Reuters