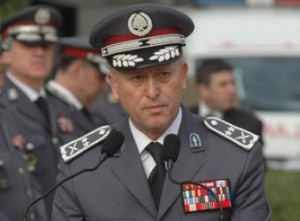 Lebanon's Director-General of the Internal Security Forces ( ISF) , General Ashraf Rifi headed to Dubai today participate in the ceremony that that will honor him as "Man of the Year 2011″ . He will be awarded a Gold Medal in the field of security leadership excellence in the Lebanese Republic,"
The event is organized by the "Arab Organization for Administrative Development of the Arab League" and the "Academy of excellence and quality " that is sponsoreed by sponsored by the the Crown Prince and Chairman of the Executive Council of the Emirate of Dubai, Sheikh Hamdan bin Mohammed bin Rashid Al Maktoum.
Free Patriotic Movement (FPM ) and Hezbollah along with the Syrian ambassador in Lebanon have mounted a campaign against Rifi ever since he revealed that the embassy employees have been involved in kidnapping Syrian opposition figures inside the Lebanese territories .