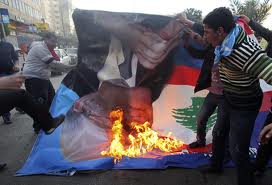 During an anti-Syrian regime protest in Tripoli, one of the protesters burnt the photo of Prime Minister Najib Mikati, whose government is dominated by the pro-Syrian Hezbollah Al-Jumhuriya newspaper reported on Saturday.
The daily also said that in addition to demanding the expulsion of Syrian ambassadors from all countries, the protesters chanted: "Hezbollah will be next," and "The people want to overthrow Mikati."
Lebanon's political scene is split between supporters of Syrian President Bashar al-Assad's regime, led by Hezbollah, and the pro western March 14 alliance headed by former Prime Minister Saad Hariri.
The UN said more than 3,500 people have been killed by the Syrian regime in its brutal crackdown against the pro-democracy protesters since mid-March.