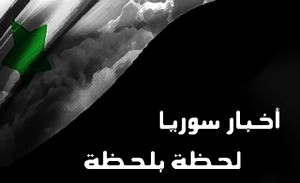 A mobile application which documents the Syrian revolution has allowed users to follow opposition groups and the latest news across the country, while sharing a few jokes aimed at embattled president Bashar al-Assad and his regime.
One link shows Assad wearing a shepherd's outfit and standing next to a donkey with the punch line "Bashar al-Assad wandering in the mountains of Tehran in disguise," in reference to Iranian leaders who have shown support for the regime, The Daily Beast reports.
The application, or app, named Souria Wa Bas (which roughly translates as "Syria and That's All") is available for the iPhone and iPad, and has even documented Wednesday's attack on intelligence headquarters in Damascus.
It included links to footage showing an aerial photo of the complex, complete with arrows believed to show the three directions from which fighters launched their assault.
Members of the Free Syrian Army (FSA), an armed opposition group composed mostly of military defectors, said they fired shoulder-mounted rockets and machineguns at a large Air Force Intelligence complex early Wednesday. It was an attack on a division that has been instrumental in a brutal crackdown on the civilian uprising against Assad. A gunfight ensued and helicopters circled the area, on-the-ground sources said.
The app also covers the actions of other opposition groups, including the Local Coordination Committees which claim to have members across the country.
Souria Wa Bas includes links for news, videos, a map of opposition hot spots and the revolution-themed jokes, which perhaps show that a sense of humor can be kept in the face of violence and continuing bloody battles.
The unrest has claimed the lives of more than 3,500 people across the country since protests erupted in mid-March according to United Nations estimates.
The app's creators say they produced Souria Wa Bas to counter regime accounts of the opposition's activities.
"Under the fast-moving events in Syria … And the deliberate attempts to distort the facts by some. We have compiled the most important Syrian news sources available," the creators wrote in a statement on their website.