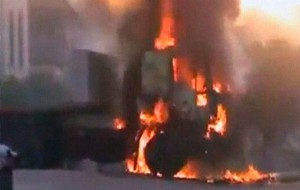 Tank fire killed at least 13 civilians and wounded dozens in the besieged Syrian city of Homs on Saturday, activists and residents said, casting doubt on whether an Arab League plan can end months of bloodshed triggered by a popular uprising.
In Cairo, the Arab League chief said the organisation was seriously concerned by ongoing violence and appealed to Damascus to abide by steps agreed this week with Arab states to protect civilians and set Syria on the course of dialogue.
"The failure of the Arab solution would lead to catastrophic results for the situation in Syria and the region as a whole," Arab League Secretary-General Nabil Elaraby said in a statement.
The deaths in Homs, on the eve of the main Muslim feast of Eid al-Adha, brought to at least 89 the number of civilians reported killed in Homs since Tuesday by troops trying to crush protests against President Bashar al-Assad and an emerging armed uprising.
"Whole buildings have been gutted by tank fire. Bread has run out and people who get hit in the streets are dying from their wounds on the spot because no one can reach them," said Samer, a local activist.
The Syrian Observatory for Human Rights said three protesters were shot and wounded by security forces in the southern town of Dael, adding that four pro-Assad militiamen were killed in fighting with army defectors near the city of Khan Sheikhoun north of Homs.
Several thousand mourners marched in Khan Sheikhoun in a funeral for a 20-year old soldier and a policeman who had refused to shoot at protesters and were summarily executed, the Observatory said.
"The people want the execution of the President," chanted the crowd, according to a YouTube video.
The government says Islamist militants and foreign-backed armed gangs have killed 1,100 members of the security forces since the uprising began in March against 41 years of rule by Assad's family and their Baath party. The United Nations says more than 3,000 people have been killed in the crackdown.
Syria does not allow access by most foreign journalists, making independent verification of events impossible.
AMNESTY OFFER
On Friday state television announced an amnesty to anyone with weapons if they reported to police within a week, "as long as they did not commit any crimes of killing."
The same day, security forces killed at least 19 people and wounded dozens across Syria, activists said.
The amnesty did not appear to be part of the Arab League plan, accepted by Syria on Wednesday, under which the army would leave turbulent cities, political prisoners would go free and talks with the opposition would begin within two weeks.
The official news agency said 553 detainees were released on Tuesday on the occasion of the Adha Feast. Rights campaigners say tens of thousands of Syrians have been arrested since the start of the uprising, with thousands more counted as missing.
Elaraby expressed "serious concern over the continuing violence" and appealed to Syria to "take immediate steps to protect civilians." He said the League wanted to safeguard Syria's security and avoid foreign intervention.
Elaraby said he had received reports in the past two days from Syria's League representative about armed groups involved in "violent acts and sabotage" in Homs, Hama and other areas.
The League statement said he had also met a delegation from the opposition Syrian National Council, led by Burhan Ghalioun.
The opposition has so far rejected talks with Assad as long as violence continues and has said the only way to restore peace is for the president to step down immediately.
U.S. State Department spokeswoman Victoria Nuland reacted dismissively when asked if she thought Syrians should participate in the amnesty, saying: "I wouldn't advise anybody to turn themselves in to regime authorities at the moment."
She also accused the Syrian government of failing to carry through on the Arab League plan and said the United States had no confidence that it would. "We have a long, deep history of broken promises by the Assad regime," she told reporters.
"TERRORISM"
The Syrian government condemned "irresponsible statements … that aim to ignite sectarian strife and support the killings and terrorism being practised by the armed groups against Syria's citizens."
In Homs, the bombardment was concentrated on Bab Amro, a poor residential district several kilometres from the centre, where insurgents and an increasing number of army defectors have taken refuge, residents said.
"The humanitarian situation in Bab Amro has become horrific. Inhabitants are reporting a total siege and dwindling food and medicine supplies," exiled dissident Rami Abdelrahman told Reuters by phone from Britain on Saturday.
Tensions have also grown in Homs between members of its Sunni majority and Assad's minority Alawite sect, after reported tit-for-tat sectarian killings this week.
State television denied that any protesters had been killed on Friday. It aired footage that it said was from areas where protests had been reported, showing crowds calmly leaving mosques after prayers. It said four police had been injured by gunfire from "armed terrorist groups" in Kanaker, south of Damascus.
YouTube footage, purportedly from many towns and cities, showed thousands of people waving flags, with some shouting: "Mother do not cry, Bashar's days are numbered!"
One clip, from the town of Taybet al-Imam, near Hama, showed crowds marching along a main street where huge Syrian flags from the pre-Baathist era were draped over buildings, along with the Libyan flag adopted by the rebels who overthrew Muammar Gaddafi.
Reuters