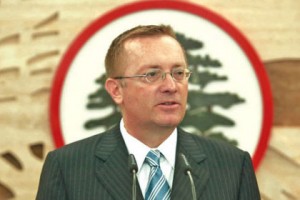 US Assistant Secretary of State Jeffrey Feltman said Friday that 'harsh decisions' will be made against Lebanon if it does not provide its share of funding for the Special Tribunal for Lebanon (STL) investigating the 2005 assassination of prime minister Rafik Hariri.
'We expect Lebanon to completely implement its international commitments because the Special Tribunal for Lebanon (STL) was established upon Lebanon's request,' Feltman told broadcaster Al Arabiya.
By the end of 2011, Lebanon should pay the court an annual share of about 33 million dollars or 49 per cent of the court's budget. But ministers loyal to the Hezbollah-led coalition in the government have rejecting funding the STL.
Four Hezbollah members have been indicted by the United Nations-backed court in the Hariri assassination. The Shiite movement has denied all charges and said none of its members will appear in a court serving 'the interests of the US and Israel.'
Hariri was killed in a bomb blast in 2005 with 21 others. The attack, which was widely blamed on Syria and its allies in Lebanon, eventually pushed Damascus to end its 30-year military presence in Lebanon.