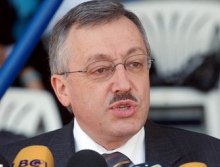 March 14 MP Ahmad Fatfat commented on the recent comments of Lebanese Foreign Minister Adnan Mansour by saying : "We don't know any longer who is Lebanon's Foreign affairs minister and who is the Syrian ambassador adding we also don't know if the position of the foreign minister represents the stance of the government .
Fatfat's comment to al Sharq al Awsat newspaper comes after Mansour told Hezbollah's Al-Manar television on Thursday that Syrian Ambassador to Lebanon Ali Abdel Karim Ali "has not interfered" in Lebanese affairs.
"The Syrian envoy has not issued any statement that would require us to summon him…or interfered in Lebanese affairs," Mansour , who is a member of the Amal Movement , a close ally of Hezbollah said.
He added that the envoy "did not make any statement that would violate international agreements."
"We sense Ali's strong keenness to preserve ties between Syrian and Lebanon." Mansour stressed
According to Al-Jumhuriya newspaper, Internal Security Forces Director General Achraf Rifi told the parliamentary committee for human rights last week that "members of the Lebanese security forces assigned to protect the Syrian embassy in Lebanon kidnapped four Syrians [whose family name is Jassem] using embassy vehicles."
March 14 MP Marwan Hamadeh told Al-Jumhuriya newspaper in an interview published last Thursday that the Syrian Embassy in Lebanon should be closed if it was proven to be involved in the abduction of Syrian nationals in Lebanon.
MP Akram Chehayeb, a member of the National Struggle Front bloc which is headed by MP Walid Jumblatt slammed Syrian Ambassador to Lebanon Ali Abdel Karim Ali last week by saying that "no diplomat has the right to interfere in a case that is now in the hands of the relevant [Lebanese] judiciary," in reference to the disappearance of Shebli al-Aysami , a former Syrian VP and the co-founder of the Baath party who went missing in the town of Aley shortly after arriving in Lebanon on a visit to his daughter .
Hezbollah and Amal are staunch allies of Syria and have been supportive of the Syrian regime in its crackdown against the pro-democracy protesters . Over 3000 Syrians have been killed by the Syrian security forces, mostly civilians.