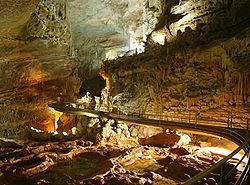 Tourism minister Fadi Aboud said over 1.2 million Lebanese voted during the past five days for Jeita Grotto as one of the new seven wonders of nature in the world.
Lebanese officials started on Monday a campaign to urge Lebanese at home and abroad to vote for the Lebanese tourist destination, Jeita Grotto, Lebanese media reported.
Lebanese President Michel Suleiman, along with Prime Minister Nagib Mikati, visited the site last week to encourage Lebanese to cast their votes via the Internet or by sending an SMS.
Jeita Grotto, a set of interconnected limestone caves with a river running between them, is the longest cave complex in the Middle East with a height difference of 305 metres.
The longest stalactite in the world is found in the grotto.
'We need more than 20 million votes for Lebanon to have a chance until the voting ends on November 11, that is why we are carrying out this campaign,' said Aboud last Monday. He called for 1 million votes a day to reach the 20 million vote by the Nov 11 deadline
Jeita Grotto, 20 kilometers north of Beirut, is one of 28 finalists in a global competition to find the 'New 7 Wonders of Nature.'
Jeita faces competition from the likes of Mount Kilimanjaro, the Dead Sea and Germany's Black Forest.
Ya Libnan urges all its readers worldwide to click on Jeita grotto and vote for Jeita Grotto as one of the new seven wonders of nature in the world
Jeita telethon day
On October 13 Abboud and information minister Walid Daouk, fixed the 30 of October to be the "telethon" day dedicated to voting for Jeita Grotto to become one of the new seven wonders of nature.
Hailing media institutions' positive role in supporting the Jeita voting campaign, Abboud said the conference mainly aims at tackling adopted steps to support the voting process and mobilize Lebanese people, media institutions, and civil society, to vote for Jeita.
"In the seven wonders of nature, Jeita has 28 other competitors," Abboud said noting the importance of this contest in promoting Lebanon worldwide and boosting the tourism and economic sectors.
A telethon is a fundraising event broadcast on television that lasts many hours or even days, the purpose of which is to raise money for a charitable or other worthy causes.
Most telethons feature heavy solicitations for pledges (promises to donate funds at a later time) combined with variety show style entertainment. Correspondingly, the term is a portmanteau of "television" and "marathon".