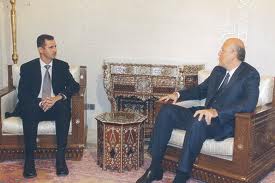 Lebanese Prime Minister Najib Mikati denied having any business ties with the Syrian regime officials nor with Rami Makhlouf the cousin of Syrian President Bashar Assad according to a report published Thursday by Al-Hayat newspaper.
"There is no relationship whatsoever between my family and Makhlouf ," Mikati was quoted as saying and added there were no business ties between him and any other Syrian officials and that the "Americans are aware that there is no such link."
Reports circulated last month in Beirut which claimed that the U.S. was looking into business ties between Mikati and the Assad regime.
Mikati also denied reports that he had received a warning from U.S. Secretary of State Hillary Clinton in the event that his government did not take international resolutions seriously.
"No warning was issued and we don't need any warnings," Mikati said, adding that "no one is concerned about Lebanon's interests more than us; and Lebanon maintains its interest in international legitimacy and U.N. resolutions."
Mikati stressed that the protocol of cooperation between Lebanon and the Special Tribunal for Lebanon "is in still effect."
Commenting on Hezbollah's and MP Michel Aoun's opposition to the STL, Mikati emphasized that U.N. resolutions and funding the STL "both lie in Lebanon's interest."
During his speech before the UN Security Council on Tuesday Mikati reiterated Lebanon's commitment to international resolutions including the resolution pertaining to the Special Tribunal for Lebanon (STL)
"Lebanon, a founding member of the United Nations, is always committed to [international] resolutions… including the resolution pertaining to the Special Tribunal for Lebanon " Mikati said
Mikati heads a government that is heavily influenced by the Iranian and Syrian backed Hezbollah which opposes the STL funding .
The tribunal was created by a 2007 UN Security Council resolution, at Lebanon's request, to try those responsible for former Prime Minister Rafik Hariri's assassination. He was killed in a suicide car bombing on February 14, 2005.
Lebanon is required to contribute 49 % STL's annual budget
Four Hezbollah members have been indicted by the UN-backed STL, however, the Shiite group denied the charges and refused to cooperate with the court
skepticism over Mikati's commitments
Mikati's pledge to fund the Special Tribunal for Lebanon has been met with skepticism by March 14 opposition leaders who voiced doubt about his ability to secure support from the rest of the Cabinet.
March 8 leaders are also questioning his authority to take such a decision on his own and insist that only the cabinet can take such a decision