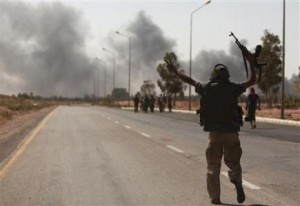 An elder from Muammar Gaddafi's tribe inside the besieged city of Sirte has asked government forces for a truce, a local commander said on Tuesday, but there was no let-up in fighting in one of its districts.
Gaddafi's hometown and one of the last bastions of support for the deposed Libyan leader, Sirte is encircled by forces with the interim government and under bombardment from NATO warplanes.
Touhami Zayani, commander of the El-Farouk brigade outside Sirte, told Reuters the elder, whom he did not identify, had contacted him on his satellite phone.
"He called me and said we are looking for a safe passage for the families and for the militia to leave the city," he said.
Zayani said he had given his agreement for families from Gaddafi's tribe, who make up the majority of Sirte's population, to be allowed to leave but was negotiating terms for armed Gaddafi loyalists to surrender.
"We didn't really get into details and we didn't talk much about how they will leave but I think the scenario will be that they have to give up their weapons," Zayani said.
With negotiations underway, there was a lull in fighting on the western side of Sirte, where Zayani's brigade is positioned, but there was no sign of any truce in prospect to the east of the city center.
Anti-Gaddafi units who had approached the city from the east were, for a second day, pinned down by intense sniper and artillery fire at a roundabout approximately 2 km (1.5 miles) from the center of Sirte.
Forces with Libya's new rulers, the National Transitional Council (NTC), brought up reinforcements to the roundabout to try to break through, including two tanks and about a dozen trucks carrying infantry.
Snipers though held up the advance. "Where is it coming from?" one NTC fighter asked after a bullet whistled nearby.
A Reuters reporter near the roundabout saw an ambulance rushing wounded NTC fighters back from the front line toward a field hospital.
"The fighting is very intense today," said Mohammed Faraj, who was in a pick-up truck mounted with an anti-aircraft gun.
"They have all sorts of stuff, from snipers to RPGs (rocket-propelled grenades) and rockets, everything, and they seem to be very close and accurate," he said.
"Some shrapnel almost hit my truck. There aren't enough fighters to back us up. There are only a dozen trucks. The snipers and fighters can see us … but we cannot see them."
Taking Sirte would be an important symbolic trophy for Libya's new rulers, and would bring them closer to gaining control of the whole country more than a month since their fighters seized the capital Tripoli.
Gaddafi built lavishly, turning his birthplace — once a sleepy coastal town — into an informal second capital. It was in the marble halls of Sirte's Ouagadougou conference center that he hosted heads of state for summits designed to burnish his image as "African king of kings."
The truce offer may not be decisive. Elders in Bani Walid, the other town still held by Gaddafi loyalists, held long talks with NTC forces but they were overruled by die-hard fighters in their own camp who refused to surrender.
Libya's new rulers are under pressure to bring the fighting to an end. Humanitarian organizations have raised the alarm over conditions for civilians in Sirte and in Bani Walid, which lies southeast of Tripoli.
CIVILIANS TRAPPED
Scores of civilians in cars laden with personal belongings streamed out of Sirte to both the east and west over the past few days.
"We are very concerned about the people inside and near Bani Walid and Sirte," Georges Comninos, who heads the International Committee of the Red Cross (ICRC) in Libya, said in a statement.
ICRC spokesman Steven Anderson said the agency was trying to get access to people trapped in both towns and provide aid to thousands of people who have fled.
People inside the two town had appealed by e-mail and phone for help, he said. "People are talking about medical supplies and food running short."
NTC fighters and people who have fled Sirte have alleged that pro-Gaddafi fighters were trying to prevent civilians from leaving, effectively using them as human shields.
"Gaddafi's forces have surrounded the area, closed it off, by shooting at people," said a man called Youssef, driving away from Sirte with his wife. "There are a lot of people who want to get out but can't."
Gaddafi's fugitive spokesman Moussa Ibrahim said on Monday the ousted leader was in Libya and "very happy that he is doing his part in this great saga of resistance."
Ibrahim would not comment further on Gaddafi's whereabouts, but said he himself had been in Sirte the previous day. "The situation is quite bad," the spokesman said.