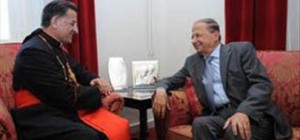 Former minister , Phalange party MP Elie Marouni told As-Sharq radio station. on Monday that "there is a big difference between what Maronite Patriarch Bechara Boutros al-Rai is trying to say in his statements and the way March 8 alliance is portraying him."
"The patriarch is calling for love, partnership and for the establishment of a state, while members of March 8 want to portray Rai as another [Change and Reform bloc leader MP Michel] Aoun," Marouni said
Marouni also said that "the reaction of the participants during the Lebanese Forces' annual commemoration of Lebanese Martyrs when former Maronite Patriarch Nasrallah Sfeir made an appearance shows where the Christian conscience lies."
Sfeir celebrated the LF's annual mass on Saturday and was greeted with loud applause when he entered the Fouad Shehab stadium in Jounieh, where the mass was held.
"We cannot continue with the current situation, and divisions among Christians is harming Lebanon… We are working for unity, but unfortunately March 8 Christians insist on giving a legitimacy cover to non-state weapons," Marouni said in a reference to Hezbollah's weapons.
Rai came under fire earlier this month from the opposition March 14 parties but won praise from March 8 politicians for indirectly defending Hezbollah's arms and linking the party's arsenal to the termination of Israeli occupation of Lebanese territory and the return of Palestinian refugees to their homeland . Even MP Walid Jumblatt who defected from March 14 alliance was very critical of Rai's statements.
Rai emphasized during a trip to Paris that "only when the international community exerts pressure on Israel to vacate the occupied Lebanese territory ( the Shebaa Farms, Kfar Shouba hills and the Lebanese part of the disputed border village of Ghajar ) and Israel allows Palestinians in Lebanon to return to their homes, can Hezbollah be asked to hand over its arms because they will no longer be needed."
Rai added that Syrian President Bashar al-Assad is "open-minded" and should be given more chances to implement the reforms he already announced.
Assad's regime has cracked down on a string of unprecedented protests across his country, killing more than 2,700 civilian protesters since the uprising began in March, according to the United Nations.