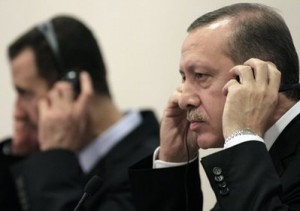 Turkey has imposed an arms embargo against Syria for its brutal crackdown on the country's uprising, and it has stopped a Syrian-flagged ship, the prime minister said Friday.
"If there are planes carrying weapons, or such shipments by land, then we would stop and confiscate them as in the past," said Prime Minister Recep Tayyip Erdogan.
He did not say when or where the ship was stopped, or whether any weapons were found aboard. Turkey intercepted an arms shipment from Iran to Syria in August, and it seized the cargo of an Iranian plane bound for Syria in March.