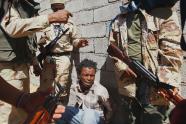 Moammar Gadhafi's fighters have fired several mortars and tried to ambush revolutionary forces at the northern gate of the loyalist stronghold of Bani Walid.
Sunday's attack came after the two sides clashed through the night inside the town as Libya's new rulers face fierce resistance to their efforts to crush the dug-in fighters loyal to the fugitive leader.
The mortars targeted a building where revolutionary forces were taking cover as well as the town's northern entrance, kicking up sand and filling the sky with black smoke. Anti-Gadhafi fighters returned fire with machine guns and rockets.
Former rebels from nearby Tajoura have arrived to reinforce the overstretched revolutionary forces on the Bani Walid front.
Photo: Libya fighters arrest a man from Nigeria, who they allege is a Gadhafi loyalist, as they take control of Moammar Gadhafi loyalists villages in the desert some 730 km south of Tripoli, at Mahruga, 50 km north of the southern city of Sebbah, Libya, Saturday, Sept. 17, 2011.