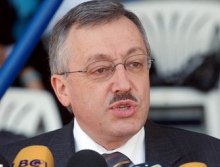 March 14 MP Ahmad Fatfat said that Hezbollah's denial of the TIME interview with one of four Hezbollah members indicted in the 2005 assassination of former Prime Minister Rafik Hariri means that Hezbollah knows where the indicted people are and is hiding them.
" Hezbollah's denial also confirms the party is communicating with the indicted, and this implicates Hezbollah," Fatfat told OTV.
In the interview the Hezbollah member indicted in the murder of Hariri boasted : "The Lebanese authorities know where I live, and if they wanted to arrest me they would have done it a long time ago. Simply, they cannot."
According to Time magazine , the accused man arrived alone aboard a scooter at the home of his Hezbollah comrade. While discussing the indictments, he revealed his true identity and confirmed it by showing an old ID card, but agreed to be interviewed only on condition that neither his name nor the location be revealed.
Four Hezbollah members have been indicted by the STL. However, the Iranian and Syrian-backed Shiite group strongly denied the charges and refused to cooperate with the court.
The pictures of the 4 Hezbollah members and their indictments were published by STL