Hezbollah official calls Time interview a "fabrication"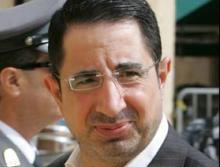 Agriculture Minister Hussein Hajj Hassan, a key Hezbollah official said in an interview with Kuwaiti newspaper Al-Qabas published on Tuesday that the TIME magazine interview with one of the people indicted by the UN-backed Special Tribunal for Lebanon (STL) in the assassination of former Prime Minister Rafik Hariri is a "fabrication."
Hassan said that the TIME magazine's Beirut correspondent Nicholas Blanford's statement denying his conducting of the interview, contradicts the interview itself.
"I do not think that this naive and twisted propaganda could give any credibility to the STL; we all know the reason behind and the objectives of the tribunal." he said
Blanford revealed on Sunday that another person conducted the interview quoted in his article, adding that he only wrote "the analysis part."
TIME magazine chief editor Howard Chua-Eoan sent an email to Future News TV last Sunday confirming that the interview with one of the people indicted by the Special Tribunal for Lebanon (STL) in the 2005 assassination of former Prime Minister Rafiq Hariri is true.
In the email, Chua-Eoan said that the magazine "stands by the interview 'Accused Hizballah Man Speaks' published at TIME.com on Aug. 19, 2011.
In the interview the Hezbollah member indicted in the murder of Hariri boasted : "The Lebanese authorities know where I live, and if they wanted to arrest me they would have done it a long time ago. Simply, they cannot."
According to Time magazine , the accused man arrived alone aboard a scooter at the home of his Hezbollah comrade. While discussing the indictments, he revealed his true identity and confirmed it by showing an old ID card, but agreed to be interviewed only on condition that neither his name nor the location be revealed.
Four Hezbollah members have been indicted by the STL. However, the Iranian and Syrian-backed Shiite group strongly denied the charges and refused to cooperate with the court.
The pictures of the 4 Hezbollah members and their indictments were published by STL